Königstone is one of the UK's leading kitchen worktop specialists, and has been providing quartz and natural stone products for beautiful surfaces in kitchens and bathrooms since 2005. New to the company's portfolio is KönigOutdoor, a modular kitchen range which combines stylish sintered stone cabinetry with materials of proven durability to provide a kitchen of unquestionable quality.
Hailing from the Southern Hemisphere, the idea of outdoor living is gaining momentum – in part, due to confined time at home but the trend was soaring beforehand too.  With this stunning new range of conveniently-designed modules, the retailer and designer can create an elite outdoor offering, with ease!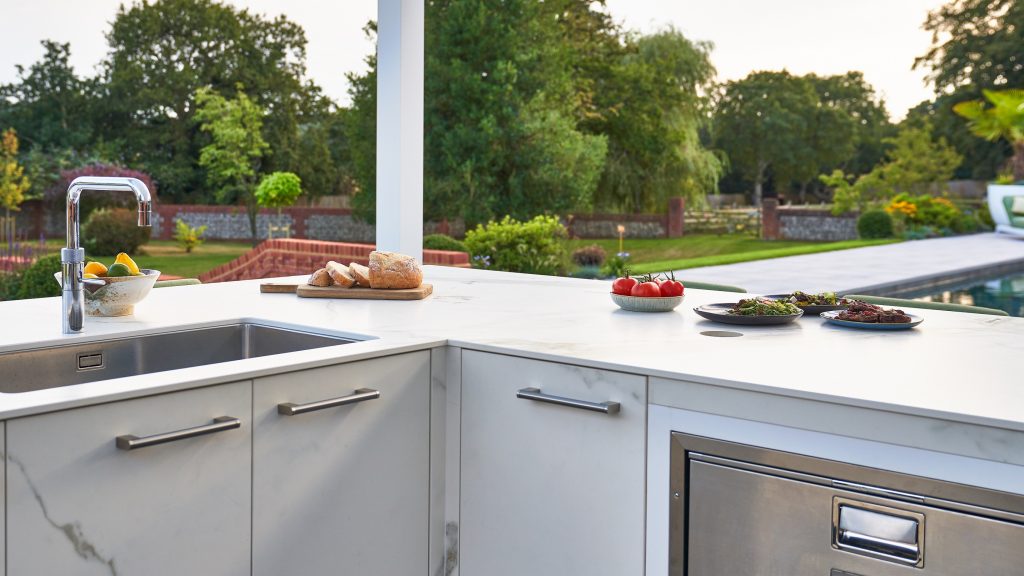 Joanne Bull, Marketing Manager for Königstone explains, "Over the past couple of years, we have seen an increase in the installation of our KönigNaturals surfaces for outdoor applications. Looking at this expanding market, it seemed there are not many suitable options for clients who demand a higher level of finish and don't want to compromise."
She continues, "Our retailers can add an additional revenue stream that doesn't compete with anything else they offer – so they can open up their order books to existing customers as well as new ones. It also doesn't take up their fitter's time as KönigOutdoor deals with the installation of the units so, provided there is a level and flat surface, installation is taken care of."
The weatherproof structure boasts all of the functions of a regular working kitchen and, at present, is available in eight sintered stone finishes from classic marble to contemporary concrete. The buyer can also choose from a selection of appliances. All KönigOutdoor kitchens are made to order in the UK factory.
To be one of the first to see the KönigOutdoor range, visit Stand S95 at KBB 2022 in the NEC, Birmingham.
To register interest in stocking or selling KönigOutdoor, please contact info@konigstone.co.uk
For further information on Königstone, please email info@konigstone.co.uk or visit www.konigstone.co.uk