UK architects selected in competition to design new private residential development near Prague.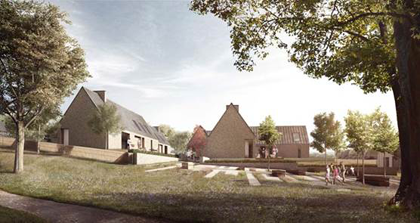 Following a private international competition, seven UK and three Czech architecture practices have been selected to design residences for Oaks Prague, a new high-end residential and lifestyle development outside Prague.
The competition was organised by Malcolm Reading Consultants on behalf of Arendon Development Company, a Czech-based property developer seeking to work with a diverse group of practices.
In total, 24 international practices were shortlisted for the competition, from a long list of over 100, of which 12 were from the UK. The long list focused on northern European practices in an arc from Iceland to the Benelux countries, responding to Arendon??s interest in seeking out emerging practices as well as more established firms.
Shortlisted practices include: ADR (Czech Republic), AI Design (Czech Republic), Architektura (David Kraus) (Czech Republic), Cigler Morani (Czech Republic), Coffey / Architects (UK), David Mikhail (UK), Duggan Morris Architects (UK), Eldridge Smerin (UK), Hall McKnight (UK), Haptic (UK & Norway), James Gorst Architects (UK), Jarmund Vigsnaes (Norway), John Pardey Architects (UK), McGarry- Moon Architects (UK), Mudrik Architects (Czech Republic), NORD Architects (UK), Paul de Ruiter, (Netherlands), Peter Barber Architects (UK), Piercy & Co (UK), Stempel & Tesar (Czech Republic), Studio Olgoj Chorchoj (Czech Republic), Studio Pha (Czech Republic), Tham and Videgard Architects (Sweden) and Werner Sobek (Germany).
The selection panel was led by Arendon??s CEO, Robert Davies, with seven UK practices chosen from this shortlist to work on Oaks Prague: Coffey / Architects, Duggan Morris Architects, Eldridge Smerin, Hall McKnight, Haptic, John Pardey Architects and McGarry-Moon Architects. The Czech architects are ADR, AI Design and Cigler Morani.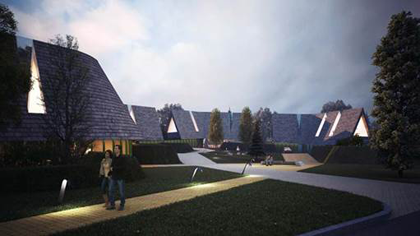 These architects will join the team including Edward Durell Stone, Jr and Associates who prepared the overall master plan for the development, which includes a new neighbourhood of 220 residential units focused around a village centre that is comprised of a golf club, hotel and spa. John Thompson & Partners have developed the pattern book/style guide.
The total project cost is estimated at €400Million and the launch construction phase is set to break ground in spring 2015 with anticipated occupation in summer 2016. Build out for the entire development is expected to take between four and five years.
The site comprises 140 hectares of existing hunting estate close to the D1 Prague-Brno motorway and is located approximately 20km south-east of the centre of Prague within the commune of Popivičky.
The UK practices will be responsible for the design of various residential typologies including terrace and semi-detached townhouses, apartments and villas. The residences?? style will be contemporary and respond to the form, layout and vernacular of surrounding Czech villages. The design will incorporate passive design techniques, energy efficient systems and low carbon design.
Robert Davies, CEO of Arendon Development Company, said: "Quality of architecture is vital to our vision of creating a sustainable and vibrant community. As we did our research it became clear to us that Czechs value well crafted, contemporary design, both local and international. Also, we were aware of a rich tradition of new residential communities in the country from the inter-war period, such as the Bata development in Zlin. We felt, therefore, that here in Prague there was an opportunity to showcase good residential design, both from the Czech Republic and from across Europe and give young designers a leg up along the way. We are delighted with what is emerging from this design selection process and we are confident that the homes we are producing will be both fine modern architecture and highly marketable.??
Davies added: ?We wanted to tap into Malcolm Reading Consultants unparalleled knowledge of the diverse range of practices working in Europe and do this properly. Malcolm??s team has a great process and was sensitive to our need to establish a balance between talent and experience.??
The competition also provided Arendon the opportunity to see various approaches to the residential design in response to Oaks Prague??s master plan and the cultural context of the Czech Republic.
Malcolm Reading, chairman of Malcolm Reading Consultants, said: ?Arendon wanted to create something unique, responding to the traditional patterns of community but shaping this to reflect contemporary lifestyle and family dynamics. The process was very successful: we set a common brief to test the teams and from this Arendon has established a stable of resourceful practices with thought-provoking designs, which will add to the richness of the overall development. It was low-cost for the practices involved, offering a long-term relationship with a superb client and giving UK practices an international opportunity.??