KSR Architects maintain their position as the preeminent architects working in exclusive St John??s Wood, North London where they currently have nine active projects. Westminster City Council recently granted planning permission for the redevelopment of a site opposite Lord??s Cricket Ground and next-door to KSR??s own award winning Pavilion Apartments.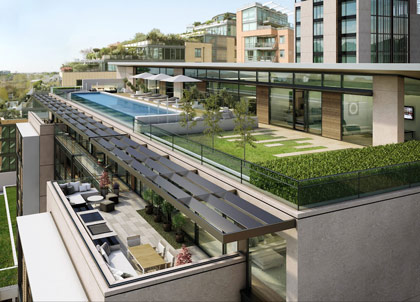 The sensitive site on St John??s Wood Road has been released for development by UKPN and is one of the few remaining major residential development sites in Westminster and St John??s Wood. The site still includes some infrastructure relating to UKPN, which is carefully integrated into the proposals. KSR has incorporated an impressive 84 private apartments and 47 affordable/ intermediate units into their design, which totals 24,000sqm.

An iconic tower facing Lord??s incorporates 300sqm of lateral apartments and a double volume penthouse, based on the New York model. Each has their own private lift stop and with views to the cricket ground. The southern apartment building on Lodge Road is lower and includes a flagship 600sqm penthouse complete with private pool on a south-facing terrace with expansive views over London.

The design features extensive use of natural stone, complementing the sharp modernity of glass and steel, befitting of a luxury development in a sensitive location.