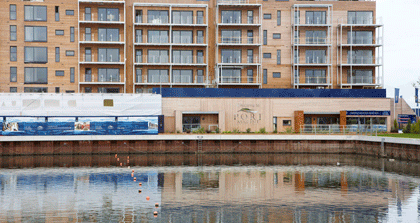 REHAU windows systems have a proven track record of providing a practical and cost effective alternative to aluminium for new build architectural developments. Our systems are available in a wide range of styles, finishes and colours with the most popular for this type of project being smooth coated Anthracite Grey.
Case Studies include:
Sixty eight new build apartment at the prestigious Port Marine Development in Portishead, Bristol feature casement and tilt and turn windows in the REHAU TOTAL70 system, sliding patio doors and composite curtain walling. REHAU products were chosen for the development over aluminium as they delivered higher thermal efficiencies and similar contemporary aesthetics.
A Code for Sustainable Homes Level 4 development in Gorton, Manchester features more than 800 windows and 20 screens, all coloured grey on the exterior & white on the interior allowing greater flexibility for interior decoration. These REHAU products were preferred to aluminium due to better thermal performance and style options.
Kent County Council??s History and Library Centre is part of a prestigious development which includes two new housing schemes. The commercial part of the development has aluminium windows and curtain walling fitted, but the contractors chose a more cost effective and energy efficient PVCu solution for the housing scheme.
Windows were specified in REHAU??s Anthracite Grey foil for PVCu which has a virtually smooth finish and is almost indistinguishable from the aluminium.
REHAU range includes:
Casement Windows available in a REHAU TOTAL70 70mm or REHAU Tritec 60mm
Tilt & Turn Windows
Top Swing reversible windows
REHAU Heritage Vertically Sliding Windows
Passivhaus Certified GENEO® Tilt and Turn Windows and Doors made
from high performing RAUFIPRO® composite material. Larger elemental sizes achievable using RAUFIPRO® with steel reinforcement often NOT required.
Flush fitting casement: REHAU Nordic Design plus windows, whole frame u value of 0.8w/m2k with triple glazing. Slimmer sightlines. 120mm outerframe depth.
REHAU Polytec 50S Composite Curtain Walling incorporating steel (3 times stronger than aluminium), whole frame u value as low as 0.88w/m2k ?? Passivhaus Certified
REHAU RAUFERNO 30 minute resistant PVCu Fire rated windows and 60 minute doors
Full range of colour options in foil or REHAU Acryl II paint finish on all REHAU products
REHAU offers a full commercial support package for projects, including CAD details, calculations, energy rating calculations and site surveys. We can also provide project specific specifications if required.
For more information please visit www.rehau.co.uk/windows