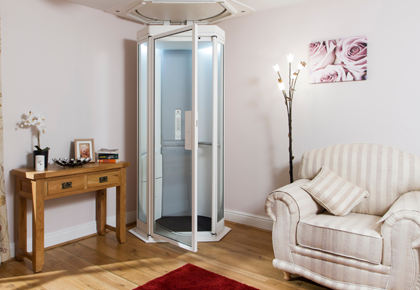 With all the blood, sweat and tears that your clients put into their self-build projects and home renovations, they are unlikely to ever want to move. Incorporating a Lifestyle home lift into their plans will give your client the means to future proof their dream home, allowing them to stay put well into retirement.
Thoughtfully designed with the latest technological advances, the Lifestyle lift finally makes a home lift a real and practical solution for those who want to stay in their homes without the stairs becoming a potential difficulty later in life.
Elegantly styled and ergonomically designed, the Lifestyle home lift is innovative and space-saving, combining quality, practicality and comfort right in the home.
Make it Yours
The Lifestyle Lift can be custom made to blend seamlessly into any home with a choice of colours and finishes for the interior, exterior and flooring, and features such as a folding seat, remote control and different shaped handrails.
The Lifestyle home lift has been engineered to take up as little space as possible. It??s slim profile and small footprint means it can be installed practically anywhere in almost all homes.
Key Features
?? Space Saving ?? Once you have used your home lift you can send it away from the room you are in and because there is no lift shaft you will have the full space of your room back.
?? Fire Protection ?? 30 minute fire protection between the upper and lower floors, whether the lift is parked upstairs or downstairs.
?? Pressure Sensitive Safe Edges – Our home lift will never travel down on top of your pet, foot or anything else as it has a pressure sensitive safety surface that stops the lift as soon as an obstruction is detected either above or below.
?? Easy Installation ?? Our home lift is self-supporting so there will be no major structural alterations necessary in order to install.
?? Make it Yours ?? You can customise almost every aspect of your home lift to suit the interior of your house.
Specification & Technical Info
?? White interior and exterior with painted silver centre panel
?? Charcoal carpet
?? Touch sensitive cabin and landing call stations
?? Straight stainless steel hand rail
?? Dimmed down-lighting inside the cabin
?? Travel up to 3 metres
?? Travel speed of 0.06m/s
?? A load capacity of 250kg (39 stone)
For more information telephone 0800 247 1229 or visit www.lifestylelifts.co.uk