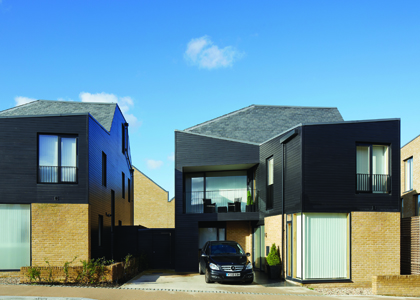 The RIBA Stirling Prize shortlist has been announced ready to go head-to-head for the main award
The shortlist for 2013 is a veritable feast of ingenuity and consideration for community and future living. There is a 1960s Sheffield housing block Park Hill; a suburban Essex housing development Newhall Be; a contemporary new holiday home within the burnt-out shell of the 12th century Astley Castle; the highly original and beautifully crafted Bishop Edward King Chapel; the majestic and monumental Giant??s Causeway Visitor Centre and the sculptural yet economic University of Limerick Medical School and student housing.
The six shortlisted buildings are varied and different in both size and purpose. The design criteria, however remains the same as they will be judged on their design excellence and significance to the evolution of architecture and the built environment.
This year we note the inclusion of housing and its importance to Britain during this time of crisis in housing opportunities, and the appreciation of real historic buildings and how they can be resurrected using out-of-the-box restoration and conservation ideas. All six entries demonstrate an appreciation and integral understanding of craftsmanship and usability and so judging will be tough this year.
Angela Brady, RIBA President, said: ?The RIBA Stirling Prize is awarded to the building that has made the biggest contribution to the evolution of architecture, and nowhere is the need for fresh-thinking needed more than in housing. The UK is blighted with unimaginative, poor quality houses that people don??t want to live in but have little other choice, so I am delighted to see two amazing and highly original housing projects on this year??s shortlist. These projects show how when talented architects and clients work together and focus on quality, affordable and desirable new homes can be created. They shine a light on what the future of UK housing can be.
All six shortlisted projects are groundbreaking in their own way, buildings that deliver more than could ever have been expected. Some of them, such as Park Hill and the Giant??s Causeway Visitor Centre, are genuinely courageous in laying out a new visionary approach. This RIBA Stirling Prize shortlist is sending out the clear message that creative vision improves our lives.??
The 2013 RIBA Stirling Prize judges who will visit the six shortlisted buildings and meet for a final time on the day of the presentation on 26th September to pick the winner are: Stephen Hodder, architect and RIBA President Elect (President: 01/09/13); Sheila O??Donnell, architect, O??Donnell + Tuomey; Paul Williams, architect, Stanton Williams; Dame Vivien Duffield, philanthropist and Chair of the Clore Duffield Foundation; and Tom Dyckhoff, journalist and broadcaster.
The winner of the RIBA Stirling Prize will be announced on the evening of Thursday 26 September at Central Saint Martins, King??s Cross, designed by last year??s RIBA Stirling Prize winner Stanton Williams.
The six architecture practices competing for this year??s title in more detail includes:
Giant??s Causeway Visitor Centre, Northern Ireland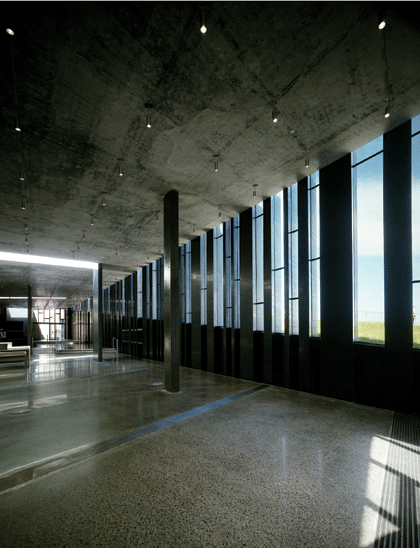 Architect: heneghan peng architects
Client: The National Trust
Landscape Design: heneghan peng architects (concept design), Mitchell + Associates (implementation)
Contractor: Gilbert-Ash
Structural Engineer: Arup
Services Engineer: Bennett Robertson
Contract Value: Confidential
Date of completion: May 2012
Gross internal area: 1,800 sq m
Giant??s Causeway Visitor Centre breaks the mould of the traditional visitor centre that tends to hide from the limelight or make a statement, this highly imaginative and sculptural piece of ??land art?? offers visitors an experience that is physical and interactive, like the causeway itself. Having ??tuned in?? so perfectly to the environment, the visitor centre acts as the perfect prologue for the main event.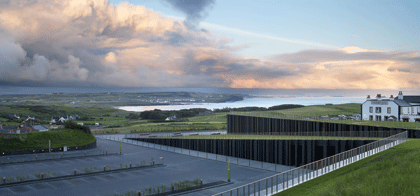 Park Hill Phase 1, Sheffield
Architect: Hawkins/Brown with Studio Egret West
Landscape Consultant: Grant Associates
Client: Urban Splash
Contractor: Urban Splash Build
Structural Engineer: Stockley
Services Engineer: Ashmount
Contract Value: Confidential
Date of completion: February 2013
Gross internal area: 27,928 sq m
Reinvention of the loved and loathed Grade II* listed 1960s housing estate. The structure of the building remained in place whilst key features were changed ?? interior layout, windows, security and much more. It stands as a beacon for imaginative regeneration, quality mass housing and the bold reuse of a listed building.
Newhall Be, Harlow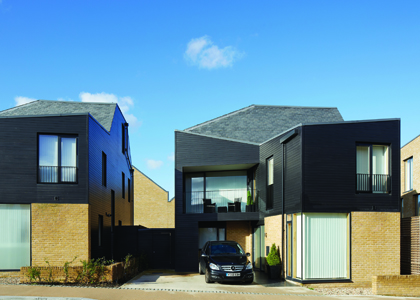 Architect: Alison Brooks Architects
Client/Contractor: Galliford Try Partnerships/Linden Homes Eastern
Structural Engineer: Thomasons
Masterplanning: Studio REAL/Alison Brooks Architects
Contract Value: £12,000,000
Date of completion: July 2012
Gross internal area: Total site: 1.63 hectares
The radical re-thinking of the shape and interior of the UK house is tackled masterfully with these 84 new homes in suburban Essex that clearly illustrate that good design quality and committed developers can transform peoples?? lives. A new model for British housing perhaps??
Astley Castle, Warwickshire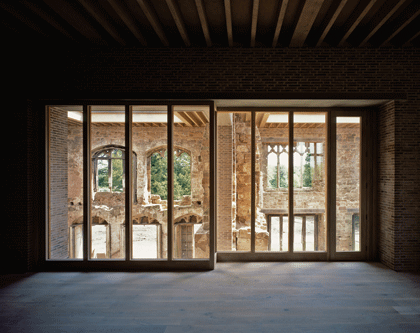 Architect: Witherford Watson Mann Architects
Client: The Landmark Trust
Contractor: William Anelay
Structural Engineer: Price and Myers
Services Engineer: Building Design Partnership
Contract Value: £1,350,000
Date of completion: July 2012
Gross internal area: 285 sq m
Beautiful contemporary Landmark Trust holiday home installed in the ruined walls of a 12th century manor. Unique example of the recovery of an ancient building ?? it is a prototype for a bold new attitude to restoration and reuse.
University of Limerick Medical School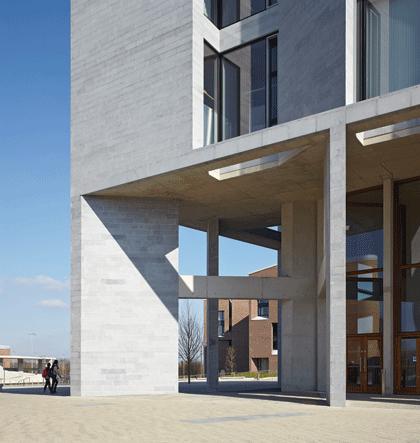 Architect: Grafton Architects
Client: Plassey Campus Developments
Contractor: PJ Hegarty & Sons
Structural Engineer: PUNCH Consulting Engineers
Services Engineer: Don O??Malley & Partners
Completion date: September 2012
Cost: Confidential
Gross internal area: 9900 sq m
This is an exceptional example of how to create a vibrant new public space through the careful design and placement of buildings. High-quality, beautiful and dramatic buildings that punch far above their rock-bottom budget.
Bishop Edward King Chapel, Oxfordshire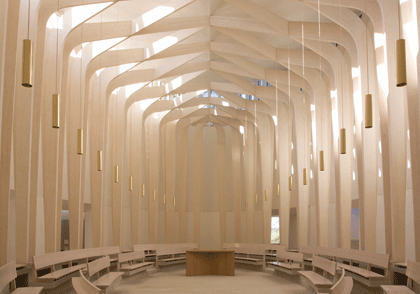 Architect: Niall McLaughlin Architects
Client: Ripon College and Community of St John the Baptist
Contractor: Beard Construction
Structural Engineer: Price and Myers
Services Engineer: Synergy Consulting Engineers
Contract Value: £2,034,000
Date of completion: Jan 2013
Gross internal area: 280 sq m
An uplifting spiritual space of great potency that the client has described as ??what we dreamed of but didn??t think we would get??. An incredible showcase for modern British craftsmanship.
Previous Stiurling Prize winners:
Sainsbury Laboratory by Stanton Williams (2012)
Evelyn Grace Academy (2011) and MAXXI Museum, Rome (2010) both by Zaha Hadid Architects
Maggie??s Centre at Charing Cross Hospital, London by Rogers Stirk Harbour + Partners (2009)
Accordia housing development by Feilden Clegg Bradley Studios/Alison Brooks Architects/Maccreanor Lavington (2008)
The Museum of Modern Literature, Marbach am Neckar, Germany by David Chipperfield Architects (2007).
Image 1 ?? GiantsCauseway. Image by Marie-Louise Halpenny
Image 2 ?? GiantsCauseway. Image by Hufton+Crow
Image 3 ?? ParkHill, Phase1 Sheffield. Image by Daniel Hopkinson
Image 4 ?? NewhallHousing, HarlowEssex. Image by Paul Riddle
Image 5 ?? Astley Castle. Image by Helene Binet
Image 6 ?? University of Limerick, Medical School and student housing
Image 7 ?? Univeristy of Limerick. Image by Dennis Gilbert
Image 8 ?? Bishop Edward King Chapel