MARCHINI Curran Associates (MCa) has been appointed to carry out an ambitious design project ?? the first phase of a multi-million pound science and innovation park.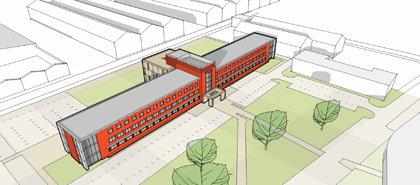 MCa will bring its extensive experience and expertise to create a new flagship centre, which will be part of a major hub for science and technology expertise.
Based in Lincoln, the science and innovation park will be created by the University of Lincoln and Lincolnshire Co-operative, which are joining forces to transform a disused site in the heart of the city.
The first phase will see Becor House, an existing 1940s building, and adjacent Minster House, extensively refurbished and significantly extended to accommodate the planned expansion of the university??s College of Science.
Des Curran, a director at Nottingham-based MCa, said: ?We??re delighted to be awarded such a prestigious contract. The new facility is all about science and innovation and our design will reflect this.
?The accommodation will be truly state-of-the-art and the vision for the exciting science and innovation park will begin to come to life. ?Bringing together commerce and academia is a forward-thinking move. The finished project will create a world-class environment for leading scientists and innovative business leaders and we??re proud to be able to play our part in such an ambitious scheme.??
MCa??s design will see existing floors converted into laboratories, teaching spaces and research facilities for 1,500 students and 100 staff at the School of Life Sciences and the proposed School of Pharmacy at the University of Lincoln.
A further key element of their work is the design of a new central hub which will provide catering and breakout spaces as well as informal teaching and learning and seminar areas.
The science and innovation park as a whole will become a centre of science and technology expertise and home to a mix of university and commercial enterprises in what is a first for the city.
Co-locating academia and commerce will bring significant benefits for both and huge investment to the site.
There is a range of similar successful projects nationally. Cambridge Science Park was founded in 1970 by Trinity College, Cambridge, and hosts businesses such as Toshiba and Bayer CropScience Ltd. Biopark, near Welwyn Garden City, features companies working in various fields including the development of oncology drugs, supplying advanced medical equipment and researching new innovations in electronics.