The Crystal ?? a Sustainable Cities Initiative by Siemens, developed in Docklands ?? has been completed and will open to the public this week.The uniquely shaped, glass-clad structure encompasses more than 6,300sqm on the waterfront at the western end of the Royal Victoria Docks in East London. It will serve as a conference centre, urban dialogue platform and technology and innovation centre. The Crystal is designed to achieve top scores on the BREEAM and LEED international assessments for energy-efficient buildings.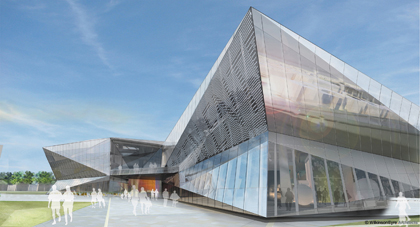 Pringle Brandon Perkins+Will is the lead consultant and interior architect; Wilkinson Eyre Associates is the shell and core architect; Event Communications designed the exhibition space; ISG was responsible for the construction; Turner & Townsend provided project management, cost management and CDM coordinator services.

Designed as an ??all electric?? building, The Crystal uses solar power, ground source heat pumps and energy-efficient LED lighting. No fossil fuels are burnt in the building. Rainwater is harvested for re-use or recycling and the Crystal is ready to be connected to London??s smart grid.

The Crystal represents an investment of approximately £30million by Siemens and is the flagship of Siemens?? Infrastructure and Cities Sector. The structure will be home to Siemens?? global Center of Competence Cities, a team of multi-disciplinary urban experts, who aim to encourage the growth of sustainable cities through partnerships, research and expert collaboration on solutions.

Inside the Crystal is the world??s largest exhibition on the future of cities covering 2,000sqm. The interactive exhibition will guide visitors through the urban infrastructure of the future, focusing on possibilities for sustainable mobility, building technologies, power and water supplies, and healthcare. Designed as a hub for dialogue on sustainable urban living and development, the Crystal will be open to the public and city decision makers. It also hosts a conference centre with 270 seat auditorium, office space, electric vehicle recharging points and a cafe.

Roland Busch, CEO of Siemens Infrastructure and Cities Sector said:
?Cities worldwide are making investments to improve their water supplies, power grids, transportation systems and building infrastructures. Our addressable market alone has a volume of €300 billion. In this growth market, the Crystal will help us intensify dialogue with our customers. The Crystal is our Sector??s showcase, contact point and mastermind.??

Chris Brandon, managing principal at Pringle Brandon Perkins+Will said: ?As the lead consultant and interior architect for the project, we were involved in developing the brief and have seen the scheme develop from the very start. The end result is a unique global hub dedicated to sustainable urban living, itself achieving the highest sustainable credentials.

?The visitor experience is also exceptional, open and welcoming. When designing the interiors, we purposefully ensured a stark contrast with the exterior ?? light, airy and predominantly white with clear views across the building and between the corporate crystal and exhibition hall. A splash of colour is introduced in the form of the auditorium, which is contained within a smooth, curved, glass-reinforced gypsum shell, painted bright red. In the opposite crystal and in contrast to the auditorium, a large mezzanine with a sensory film experience theatre is contained within a white curved fabric shape, which cantilevers over the edge of the mezzanine to emphasise the precarious state of the world,?? he added.

Sebastien Ricard, director at Wilkinson Eyre Architects said: ?The Crystal is a response to a very unique brief, which involves creating an iconic building to house an international centre of excellence for sustainability founded by Siemens. This project offers the fantastic opportunity to explore how new technologies can help create a highly sustainable building without relying solely on 'passive systems.'

?Our concept for the building was inspired by nature, creating a distinctive crystalline form which aims to inspire people to see the future of sustainability as an opportunity to be more innovative and improve the quality of the building fabric of our cities.??

James Alexander, CEO of Event Communications said: ?This has been an incredible opportunity to work with Siemens, one of Europe??s leading multi-nationals, to explore the pressing issue of how to live sustainably in urban environments. Delivering the exhibition at the Crystal has been challenging and thought-provoking and our solution ?? a combination of installations designed to engage personally with visitors ?? seeks to offer corporate clients and the general public a better understanding of the subject and point to positive ways in which they can change behaviour to make a difference.

ISG??s Stuart Deverill, managing director – London commented: ?The Crystal is an outstanding example of a building that possesses both form and function, clearly demonstrating to a global audience that highly sustainable structures needn??t compromise on architectural integrity. Successfully delivering such a complex and unique building across a fast-track programme has required a truly collaborative approach and ISG can now add this global exemplar to its portfolio of iconic and internationally recognisable structures.??