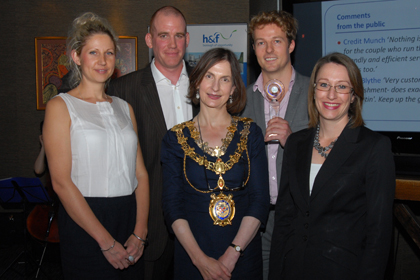 Darlings of Chelsea, a company specialising in all kinds of high quality sofas, has been awarded one of the prestigious Brilliant Business Awards at the inaugural ceremony held by Hammersmith and Fulham Council. The awards were held at Brasa Restaurant in Fulham Broadway on the 9th of July.
The company won the Best Customer Service Award, voted for by customers. Their attention to detail and dedication to each individual customer helped them win the award. ?We did not expect it, we are very proud to have won this award,?? said John Darling, the founder of Darlings of Chelsea.
One of the key factors that helped Darlings of Chelsea win the award was their account manager service. When a customer arrives at the store and places an order, they receive the attention of an account manager who is dedicated to handling their order from start to finish. They will provide updates, advice on delivery and also guidance on any future items the customer may wish to buy.
?It feels great to get recognised for our staff going that extra mile,?? Darling added. ?That??s what we tried to create with Darlings, a sofa company from the customer??s point of view.??
The company has also worked hard to provide a delivery service that caters to the customer??s needs. Instead of providing a delivery day, they provide a window of two hours during which the delivery will be made. The customer will then receive a phone call from the driver when they are close to making the delivery.
Their website contains a wide range of sofas and information, and there is a dedicated page describing the Fulham store and its offerings in more detail. This includes its opening hours and information on late night shopping. Darlings of Chelsea will attempt to stay open for late night shopping if customers request it in advance.
Darlings of Chelsea sell a wide range of leather and fabric sofas, as well as corner sofas, sofa beds and chairs.
For more information visit www.darlingsofchelsea.co.uk