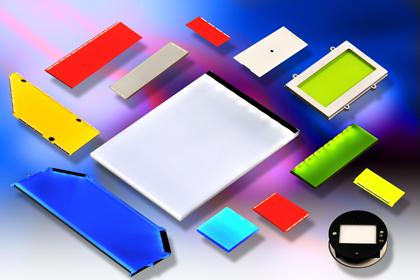 OMC, the pioneer in LED lighting, backlighting and industrial fibre optic transmission, can now offer bespoke backlights for LCDs based on a new emitter design that provides the brightness of a dual chip emitter but requires only the forward voltage of single chip solution. Therefore, for the first time, users can drive OMC??s white and blue Profiled Backlight range from a 5V source, which OMC say is becoming ever more desirable in modern applications.
For high volume applications such as mobile phones, LCD backlight design typically involves an injection moulded backlight with its own LED array. Surface-mounting LEDs are connected electronically by a PCB mounted to the backlight, meaning that they can be configured in whatever series/parallel arrangement suits the available voltage source. But moulded backlights usually require an expensive and lengthy setup process, making them unviable for volumes less than, say, 50k pieces.
To address this, OMC introduced their Profiled Backlight range, which involves minimal setup and is, according to OMC, the only viable solution for low to medium volume requirements of bespoke backlight shapes and sizes. Profiled backlights offer very consistent illumination across the entire display. Uniquely, they can feature single or dual chip LEDs depending on optical requirements and power constraints, and are available in a full range of colours including blue, white and RGB. Complementing a standard product range which numbers over 250 different sizes, OMC can turn around bespoke-shaped backlights in as little as five working days with set up costs starting as low as £50.
The Profiled Backlights make use of OMC??s side-firing backlight emitters. These LEDs have been designed to couple light efficiently into the lightguide, and until now, each LED has had a two-pin connection to the user??s circuit board. Dual-chip emitters, in which each LED package contains two LED chips, are often used for Profiled backlights because it is possible to get twice as many LED chips around the backlight edge thereby doubling the brightness and enhancing the uniformity of the backlight. Traditionally, dual-chip backlight emitters have both chips in series with a single anode and cathode. Therefore, white and blue displays can require a voltage supply of 8V or more (the forward voltage of a blue or white LED chip is 3-4V, there are two chips in series and some overhead is needed). This has meant, though, that if the user was working at lower voltages they would typically be restricted to using single-chip emitters for white and blue backlights, limiting the performance of the backlight.
OMC??s new four-pin dual-chip package allows each chip to be addressed individually. This means that the user can arrange the LEDs in parallel, reducing the drive voltage requirement to 3-4V and enabling low voltage, high brightness dual-chip-emitter white and blue profiled backlights. The package has the additional benefit that by turning on the chips separately, the user can switch the backlight from standard brightness to high-brightness mode simply by turning on the second chain of emitters. This is advantageous in applications where complex dimming circuitry cannot be included for reasons of space or cost, but the user still wants some element of control over the backlight brightness ?? for example to switch between ??power saving?? and ??full brightness?? modes depending on the intensity of ambient light.
Commercial director, William Heath comments: ?We have developed this new emitter technology in response to a large increase in enquiries from customers who are working from a 5V supply. Often this is because they are using a USB power source, which we are seeing become more popular as the power source of choice for handheld devices.??
For more information telephone 01209 215 424 or visit www.omc-uk.com