ADP??s new Central Teaching Laboratories building at the University of Liverpool has won an inaugural S-Lab Award 2012 for best practice in laboratory design. The S-Lab Awards (standing for ??Safe, Successful and Sustainable?? Laboratories Awards) have been set up to encourage best practice in the design and practice of laboratories across sectors, with a particular focus on the higher education sector.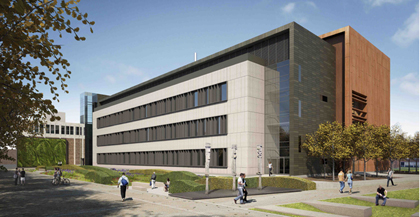 The Central Teaching Laboratories will serve the Physical Sciences over three floors of high quality, flexible teaching space. The building comprises 7,860sqm GIA, 4,141sqm of which is laboratory space. It has been designed to cater for over 1,000 students at any one time.
Energy efficiency is an important priority for the University of Liverpool, but laboratory buildings use large amounts of energy due to the inclusion of fume cupboards and number of air changes associated with this particular building type. The Central Teaching Laboratories presented quite a challenge to reduce energy while addressing the university??s concern with health and safety issues. BREEAM provided the framework to address this through a series of briefing workshops with various stake-holders, meeting credits for both the consultation process and for energy use and fume cupboards. Efficiencies were met through reduced face velocity, height and width of fume cupboard opening and variable air volume.
ADP??s architecture, landscaping and in-house BREEAM assessors worked together to achieve a BREEAM ??Excellent?? rating under the BREEAM Higher Education 2008 scheme. ADP had successfully piloted BREEAM Higher Education on a previous scheme for Canterbury Christchurch University, and this scheme was particularly beneficial for the Central Teaching Laboratories due to the inclusion of the credit for energy efficient fume cupboards, which acted as a briefing requirement for the fume cupboard design. Measures the ADP team incorporated included; rainwater harvesting, mixed mode heating and ventilation with heat recovery. Waste heat is utilised from the existing campus Combined Heat and Power (CHP) unit, which results in a carbon reduction of around 15 percent. A green wall highlights the sustainable nature of the building, while the team also created an additional meadow from an informal lawn area and added bird boxes in the walls of the building to increase biodiversity.
Importantly, the project also fosters a major culture change in the way science is being taught at the university. It leads the way in a movement towards centralised, sustainable, flexible ?? and crucially, better utilised – laboratory resources. The building has been designed to be shared by a wide variety of users, including those from other universities, schools and the private sector.
It has long been known that utilisation in laboratory space and resources across multiple departments in Higher Education can be low, and that there can be a widespread duplication of expensive equipment and human resources. Achieving a greater utilisation of teaching space is a key priority of the University of Liverpool. By bringing together science and engineering facilities, equipment, and technical staff all under one roof, the Central Teaching Laboratories will greatly improve efficiency across disciplines and provide significant costs savings for the university. Utilisation is expected to increase from below 20% to a rarely achieved 50%, with the university aiming to timetable 100% bookings throughout term times.
The university has created a separate management team for the laboratories, led by an academic and business manager, with their own team of technicians and teaching fellows. The facility will be distinct from the faculty departments, with its own flexible and highly-trained staff, who will be able to prepare the laboratories for any of the disciplines sharing the building. This will significantly reduce the duplication of resources and make the best use of the staff.