Architectural practice dMFK attract staff back to the office with market-leading acoustic design supported by Oscar Acoustics.
In 2022, award-winning architectural practice dMFK, in collaboration with architects Sher + White, embarked on the refurbishment of dMFK's headquarters in Fitzrovia, Central London, seeking to create a visually appealing, comfortable and collaborative space for its workforce.
Julian de Metz, Director at dMFK, said: "It was crucial that the space represented us as a practice in both looks and function. For us, this was about more than just creating a new office space – it needed to have meaning, whether that's contributing towards staff wellbeing, retention, or helping to attract the finest talent.
"Our goal was to create not only a beautiful and functional space, but also a home-from-home sanctuary that would encourage staff to spend time in over remote working.
"Our experience in developing commercial office space has taught us that one of the foundations of this concept is noise control. Without the right acoustic solutions, our 45-strong office would remain overly noisy, understandably keeping our workforce at home in quieter surroundings – a far stretch from the 'home away from home' environment that we wanted to create."
"There were several challenges acoustically speaking, as the building featured an array of hard surfaces, including glass, timber and plasterboard, all of which combine to create a 'lively acoustic environment'.
"The resultant noise levels have the potential to cause undue stress and distraction, making it difficult for staff to focus and converse. We knew we needed a solution that could 'soak up' sound energy, creating a softness that would promote focus and wellbeing, whilst still feeling 'homely'."
Seeking a solution to this issue, dMFK enlisted the help of acoustics experts, Oscar Acoustics.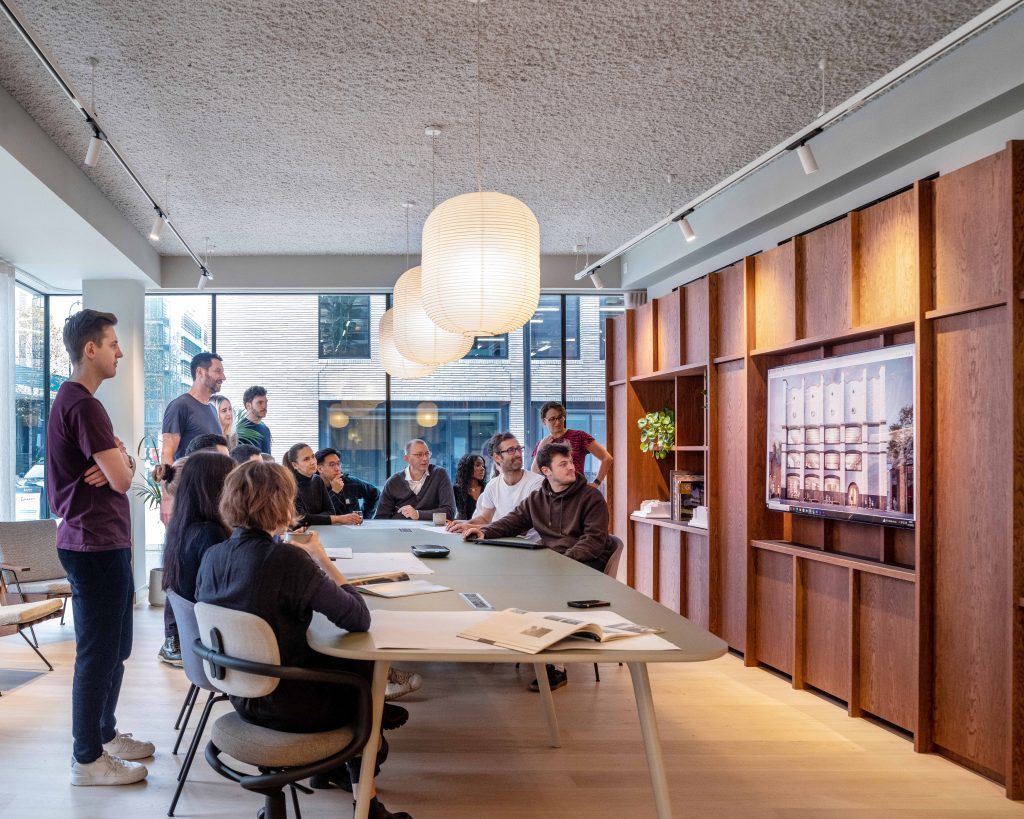 Sound solution
Ben Hancock, Managing Director at Oscar Acoustics, said: "dMFK's brief was clear – they wanted a solution that would create an acoustically balanced environment while also working with the aesthetics of the interior space.
"With 45 years' experience in providing acoustic solutions for busy commercial office spaces, we knew that SonaSpray K-13, from our acoustic spray range, was the ideal solution for this project. It's a premium acoustic spray that significantly reduces noise reverberation by absorbing sound instead of reflecting it.
"We applied the product in a stunning pale grey colourway, to the ceilings of the areas with the greatest potential for excess noise – the communal areas, large meeting rooms, and co-working spaces and I'm pleased to say that it blends seamlessly with the warm interior décor."
Ben continued: Application of the spray also required careful planning. For a seamless finish, pattresses were installed at the same depth as the acoustic spray, enabling surface-mounted fixtures and fittings, to sit perfectly flush.
Green and clean
As an ISO 14001 accredited company, sustainability and the use of healthy materials in the project were key components for dMFK.
Ben commented: "Our SonaSpray range is ideally suited to sustainable, low-carbon projects as it is made from recycled materials and is M1 Classified as a Low Emitting Building Material. As such, it contributes towards many sustainable design and health certification systems including BREEAM, SKA, Living Building Challenge, and adds up to 17 points towards the LEED (Leadership in Energy and Environmental Design) rating of a project."
"Further accreditations, such as its GREENGUARD Gold Certified compliance for Indoor Air Quality, means that the range has met some of the most demanding and comprehensive standards for minimal VOC emissions into indoor air."
Staff safety was also a key concern on this project. Hancock commented: "We're extremely proud of SonaSpray's fire safety credentials. It is one of the few acoustic sprays on the market to offer fire credentials that go above and beyond Approved Document B fire requirements (Class 0 to BS476 & B-s1, d0 fire rating). It produces little to no smoke and virtually no droplets – which can assist in the safe escape of occupants should an event occur."
A home away from home
On the finished project, De Metz commented: "We're absolutely thrilled with how the office looks and performs, and Oscar Acoustic's solution is integral to this. It is the single most noticeable and effective material in our office and directly contributes to day-to-day comfort and the ability to work without bothering others."