Natural light wins at this shared office space in the heart of Salford's MediaCity.
A shared office space spanning three buildings and 20 floors, ARRIVE is a contemporary and stylish workspace in the heart of the world-famous MediaCity, which is also home to the BBC, ITV, dock10, international brand names such as Kellogg's as well as 250 SMEs.
The award-winning Tomorrow is one of these three ARRIVE buildings. The space hosts a number of creative, tech and digital businesses and is located at the heart of the iconic waterfront destination. Tomorrow has recently been adapted and refitted to create a complete state of the art workspace for companies who need flexibility and style.
The ground floor of Tomorrow Building is a co-working facility. Above this are six floors with workspaces ranging from 70 sq ft – 8,342 sq ft. With flexible terms between six months up to five years, Tomorrow lives up to its name, offering the most convenient, flexible and forward-looking office spaces possible, to cater for the creative industries of the future. Floors 7-11 host a Premier Inn, making this a hugely busy business hub, with travellers and colleagues meeting from all over the world.
The refit was carried out by Manchester-based Consensus Workspace, who had just 12 weeks to complete the process, working around existing tenants.
Consensus Workspace was briefed to completely strip and refit the spaces beneath the Premier Inn. The commercial fitout company started by stripping the spaces out from floor to ceiling. All existing walls were removed and disposed of and replaced with glazed partitions in order to make the most of the natural light from the huge windows. New open plan and office areas were created, with new comms and M&E services routed throughout the unit.
The first floor needed to provide a blank canvas for businesses to make the space their own – it needed to be stylish, practical and flexible, to suit all types of operation using the space. The backdrop created is therefore the style of a large studio or warehouse, with exposed steel beams, full access raised floors and full height glazing with partially open-able windows.
The previous floor finishes were swapped out in a number of high-quality materials (including LVT), and purpose-built break-out seating areas were created, to encourage the new collaborative role of the office. All walls and ceilings were refinished and a modern lighting design implemented, to transform the space into a peaceful and practical new working environment, with mindfulness at the heart of it.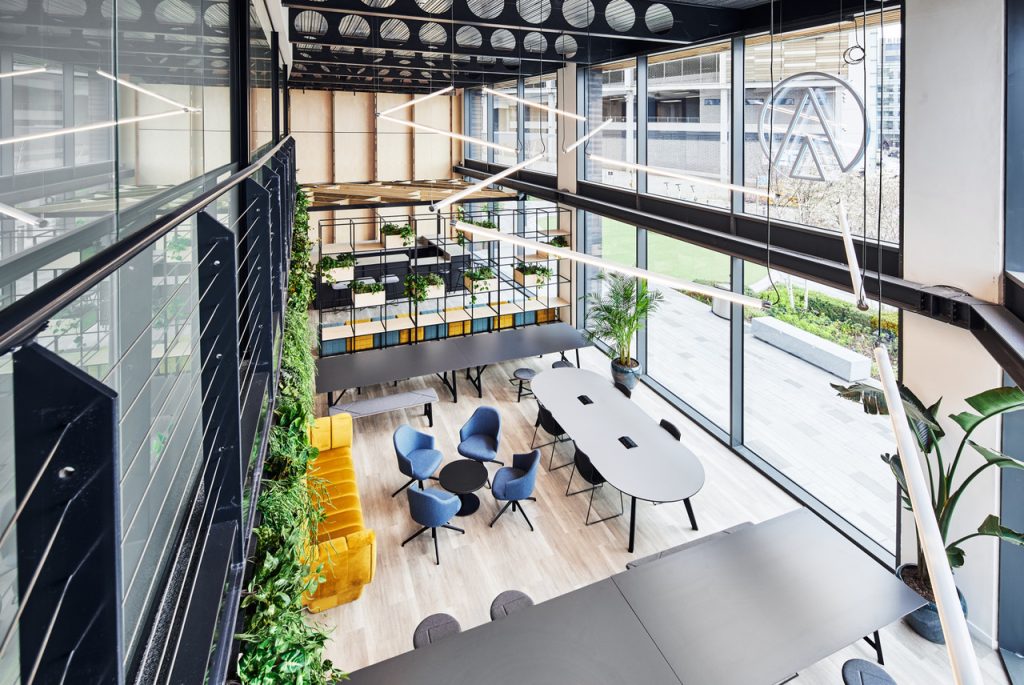 Andy Plastow, Consensus Workspace says: "Mindfulness is key: the 'return to work' post-pandemic has not played out the way a lot of mainstream media have suggested. Our clients report a real appetite from their teams to work together. Homeworking is convenient but for culture and community to thrive, colleagues do need to meet in person. We have made changes to internal layouts which were on the cards anyway – Covid simply accelerated them. This means a more fluid approach, more open-plan collaborative spaces, private offices being used for meetings rather than ongoing work. If people are making the effort to come into an office, it means they want to be around other people, and the layout and styling at Tomorrow reflects that."
While advanced IT and networking systems needed to be installed throughout to cater specifically for the large bandwidth use of the creative industries, the technology is not immediately visible. Instead, materials used throughout Tomorrow have been specifically chosen to reflect nature and respond to the modern workforce's desire for responsible offices. Sustainability is key, with wooden booths created for private meetings or phone conversations. Biophilia is evident everywhere, with plants placed throughout the space.
"The aim is to make people feel truly relaxed and healthy in the workplace," continues Andy. Natural light, sustainable materials, open spaces, and positive colours that all reflect the sun and the ground are used, to create a subliminal connection to the earth."
ARRIVE's spaces make creativity and innovation easier, by ensuring that day-to-day working flows. The result of the refit is a stunning series of open-plan and private working spaces, with clever use of glass meaning everywhere feels centred around the large atrium, making the most of the huge windows. Natural light, colours and materials all combine to create an aesthetic that is calming and welcoming: conducive to creative, collaborative and flexible work.