Ben Hancock, Managing Director, Oscar Acoustics, discusses creating workspaces that suit everyone.
"Attention to our workspaces and daily surroundings has become more prominent in recent years. In particular, the relationship between acoustics and design is now more important than ever. And rightly so, we're all aware of the benefits that well planned, beautifully designed spaces can have on our physical and mental health, yet the issue of noise at work is often overlooked (but remains just as important).
That isn't to say that progress isn't being made. Innovative buildings such as London's 22 Bishopsgate are rewriting the rulebook – built to inspire, support and revitalise workers. However, despite some shining examples, it isn't a stretch to say that the majority of office spaces are still lacking in effective acoustic solutions. In my eyes, no matter how impressive a space may be, if users find it too noisy and distracting, then it's failed to achieve its end goal. After all, shouldn't our spaces sound as good as they look?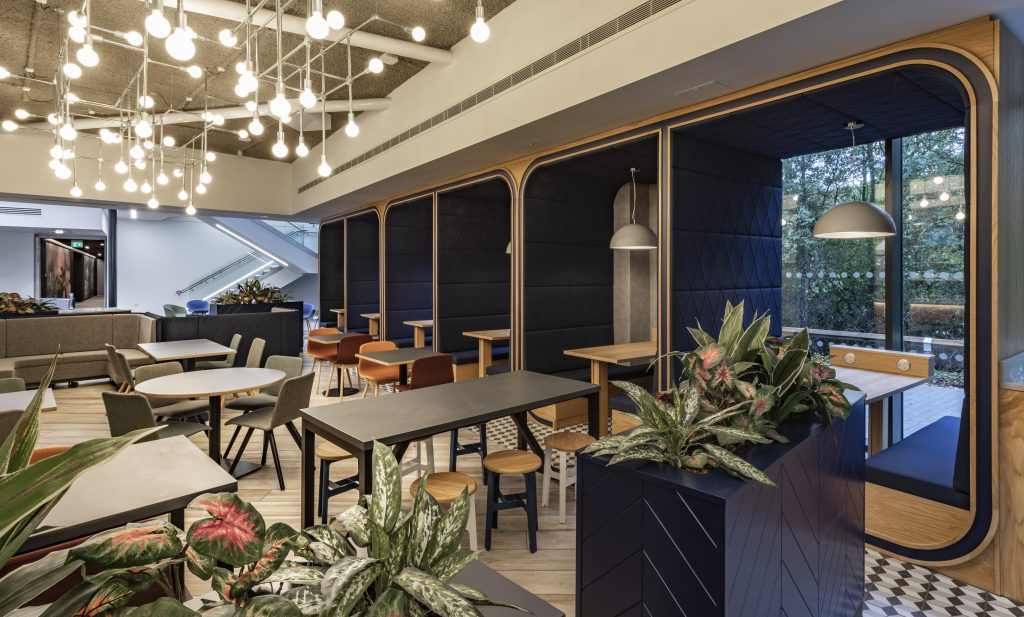 Listening to the research
This issue of noise has become increasingly commonplace in offices – where the fallout of COVID-19 has seen a surge in reimagined and redesigned spaces. Following a lengthy spell of working from home and more recently, the rise of hybrid working, employers now need to consider how staff interact with their work environments and how their expectations have changed. After months away, it's imperative they can achieve the same level of focus and concentration as they do at home. This means creating working environments that are comfortable, spacious, well-lit and most importantly – free from excessive and distracting noise.
However, our latest research shows that isn't the case for the majority of offices. Excessive noise remains a major sticking point, becoming a major hindrance to those looking for a calm workspace – or a home away from home. As noise levels climb, our studies show that employees find it obstructive, impeding concentration, heightening stress and quite simply, preventing them from returning. The impact is fraying office relationships that can slowly chip away at business productivity. It's clear that our workspaces aren't working for everyone and it needs to be fixed.
What does good sound like?
So, how do we overcome this issue and what design criteria should we strive towards if we're to create office spaces that keep a workforce happy? Firstly, it starts with putting employees at the heart of the design. Prioritising their needs will shape how a space will look, feel and sound, allowing them to be as productive as possible.
To do this, we must rethink how we approach office design – including how we manage acoustics. Without this missing piece of the puzzle, we will find ourselves trapped in the perpetual loop of creating working environments that are easy on the eye, but hard on the ears. Our starting point? Our offices need to include as much reconfigurability and flexibility as possible. As Rachel Hoolahan, Architect at Orms, puts it: "We must transition away from chemical fixing methods such as glueing towards mechanical methods, such as screwing bolting and clipping."
Other strategies include rooms for focus areas and distraction-free phone calls alongside hybrid meetings zones where staff can come together and collaborate. The needs of offices are changing and our spaces should reflect that.
Leading industry advice on how to make hybrid working a success has a similar approach. In IDC's 'Defining the Building Blocks for Best-in-Class Workspaces', it states that office-environments should be "purpose-driven" to achieve best-in-class workspaces and that "user experience is paramount to ensuring workspace transformation success". Further, "best-in-class workplace players can deliver modular spaces that can flexibly switch purpose and adapt to the requirements of the organisation".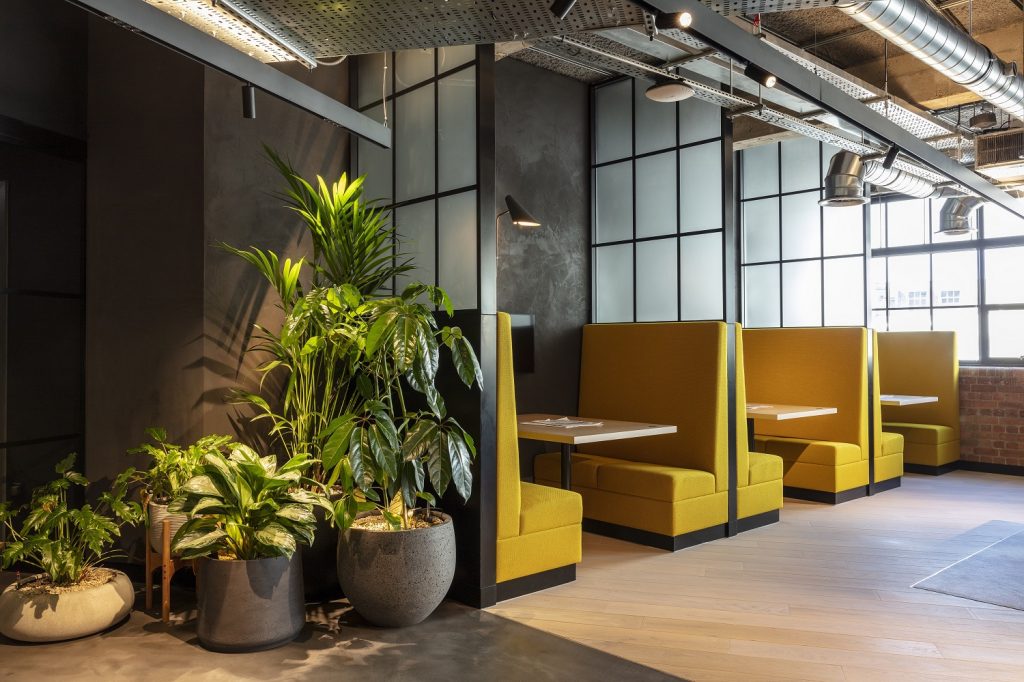 Prioritising acoustic impact
Companies looking to 'level up' their workforce and encourage staff back into the office should not underestimate the positive impact of acoustically balanced spaces. Flexible and changeable environments are the future and having an acoustic solution that can support reconfiguration should be paramount.
One way of doing this is through high-quality acoustic sprays and plasters, which absorb sound energy, instead of reflecting it. These popular acoustic solutions reduce reverberation times and overall noise levels in a space enabling staff to retain focus and allowing them to perform at their best. Their seamless and decorative finish follows the lines of whatever is underneath, so no matter the configuration of a space, noise will never be an issue.
Acoustic spays can also be applied at speed, making them the ideal solution to both Cat A and Cat B refurbishments, allowing for dividing structures such as office pods to be brought in without disrupting the acoustic spray finish on the ceiling above. It's worth noting that quality acoustic sprays can be applied to most types of surfaces including plaster, wood, metal and concrete, making them suitable for a wide range of office workspaces and designs.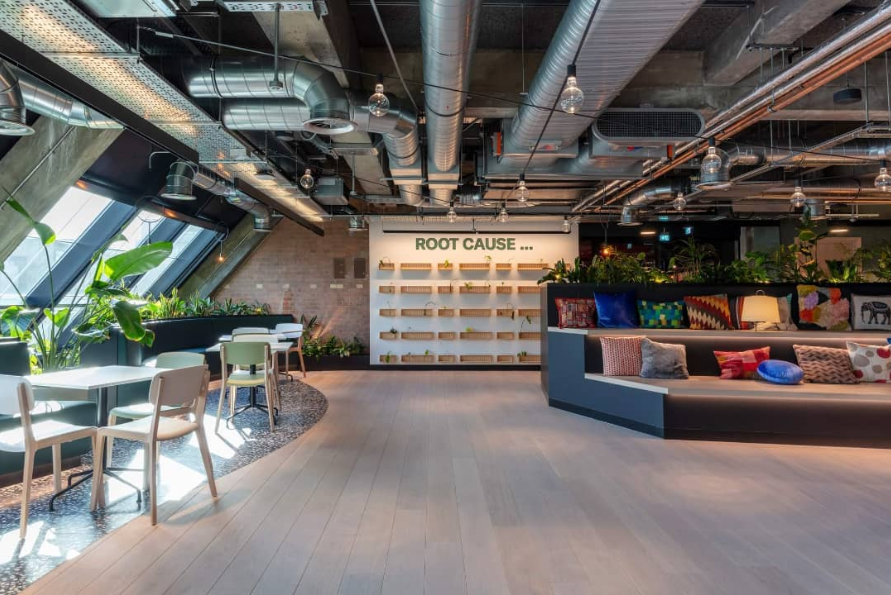 Meeting fire and sustainability standards
A premium acoustic spray will also contribute towards many sustainable design and health certification systems including BREEAM, SKA, Living Building Challenge and adds up to 17 points towards the LEED (Leadership in Energy and Environmental Design) rating of a project. Before investing in a spray, it's important to establish if it is GREENGUARD Gold Certified compliance for Indoor Air Quality, as this will mean it meets the highest welfare standards.
In today's climate, fire safety should also be top of the agenda and acoustic sprays that go above and beyond Approved Document B fire requirement (Class 0 to BS476 & B-s1, d0 fire rating), should always be prioritised. Not all sprays offer the same level of safety credentials and you'll want an acoustic spray that produces little to no smoke and absolutely no droplets, to help occupants escape a building safely.
With a string of external pressures, such as rising energy prices, companies are now assessing their office space needs like never before. This is placing more emphasis on how we think about the design of our working environments, and how to create solutions that work for everyone. We need to tick all the boxes. Sound matters, and with a little thought and consideration, it can make a big difference – our health and productivity depend on it."