The new SCENO by Zumtobel is as flexible as two luminaires and as compact as one. The rotatable luminaire with its individually swivelling wings is extremely versatile and, thanks to its countless application options, gives retailers a free hand in shop design and product presentation.
UK, May 2022 – As a shop's design changes, so does the lighting. Zumtobel's new SCENO #adapts to any shop-floor challenge; the rotatable luminaire and swivelling wings – in which the lighting modules are integrated – can be adjusted independently. Whether shelves are moved, aisle widths changed, or special sales areas created, SCENO ensures uniform surface lighting.
Understated design and brilliant light
The luminaire's understated design lets the merchandise take centre stage and draws customers' attention to the products. It also offers an attractive, timeless exterior and straight lines.
SCENO delivers both uniform and brilliant light from specially developed lens technology. Instead of a large light source, Zumtobel relies on a series of miniature lighting chambers. Whether fitted with seven LEDs or 14, installed on one or two sides, the combination of lenses and anti-glare honeycombs guarantee the best light quality and effective glare control with a high level of visual comfort.
Retailers can use SCENO to create a stimulating atmosphere turning the purely functional task of shopping into an emotional experience.
Design freedom thanks to four variants and countless application options.
In addition to a fixed central section, SCENO has independent wings that integrate light honeycomb louvres. With tilt angles of between -10 and 90 degrees, each wing can be adjusted separately and positioned; furthermore, the entire luminaire is rotatable by 355 degrees. So if you are adding promotional items, supplementing seasonal ranges, or reorganising stock – SCENO shows shelves and presentation areas in the retail sector in their best light.
The range is available in four design variants to meet different needs: one or two wings and 7 or 14 honeycomb louvres per side.
While the small size (1 x 7 or 2 x 7 LEDs) is perfect for installation up to a height of 3.5 metres, the large size (1 x 14 or 2 x 14 LEDs) is ideal for mounting at greater heights of 4.5 to 6 metres. Depending on the variant, the light output varies from 3500, 7000, 8000, or 14000 lumens.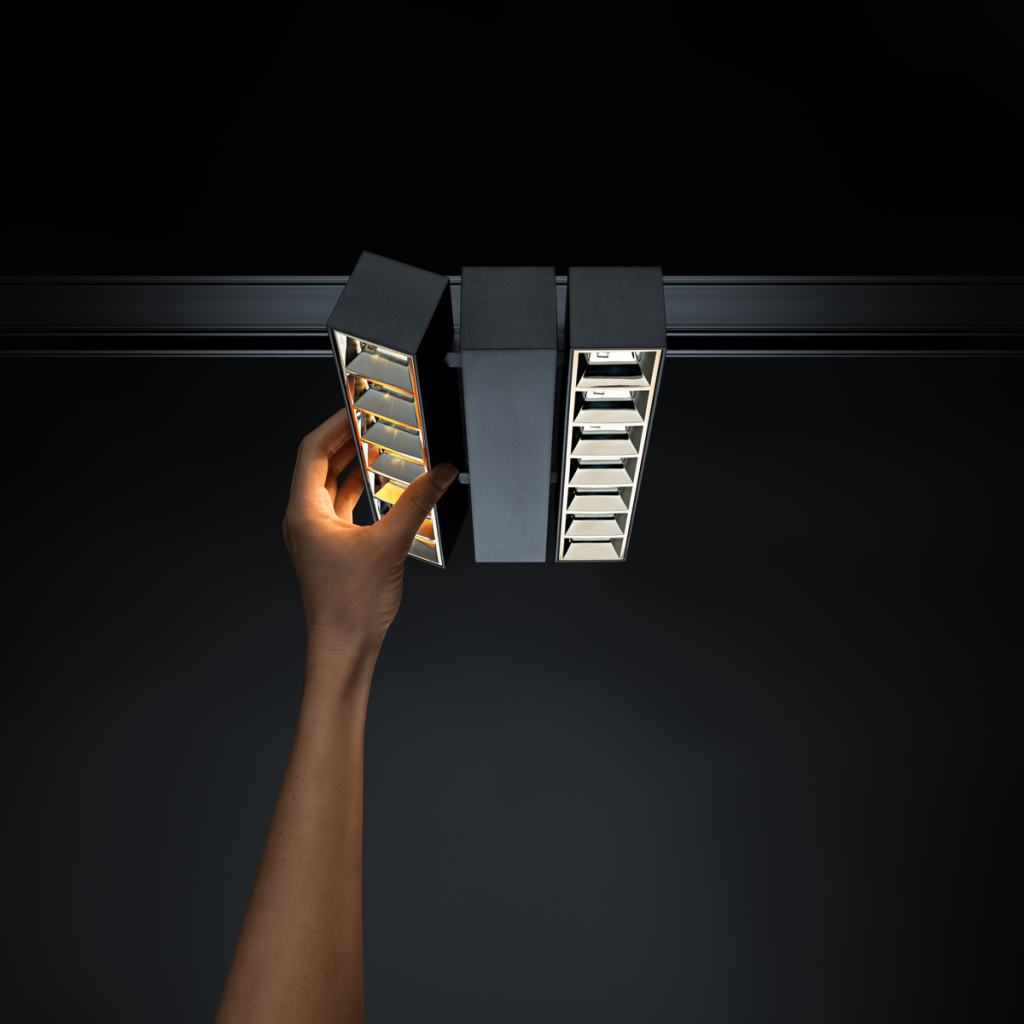 Individually customisable
Available in three housing colours — black, white, and silver, SCENO blends discreetly into the room. Specially designed for supermarkets and retail spaces, it considers the human perspective. The various optics deliver light exactly where needed. An asymmetrical, symmetrical (55 or 75 degrees), or oval optic is available depending on the desired lighting effect.
The luminaire is also available in four different light colours (2700, 3000, 3500, and 4000 Kelvin) to highlight the colours and details of the merchandise. In addition, the special MEAT module is available for deli counters, authentically accentuating the red tones of the food without distorting the colour and creating an impression of exceptional freshness. The colour rendering index is Ra > 80 or Ra > 90 (from autumn 2022).
Efficient, easy-to-install store lighting
The overall efficiency of the scheme is ensured by targeted light direction and highly efficient LEDs. This means luminaires can be spaced further apart, reducing the number of luminaires required. This means reduced installation time and costs, and also it frees up space for additional elements on the tracks, such as state-of-the-art motion sensors or beacon technology. The lighting infrastructure thus offers room for future digital applications such as store analytics, indoor navigation, or geo-notifications.
SCENO can be mounted, by just one person, on three-phase trunking or on the TECTON trunking continuous-row lighting system. It can also be installed as a pendant luminaire in rooms with high ceilings.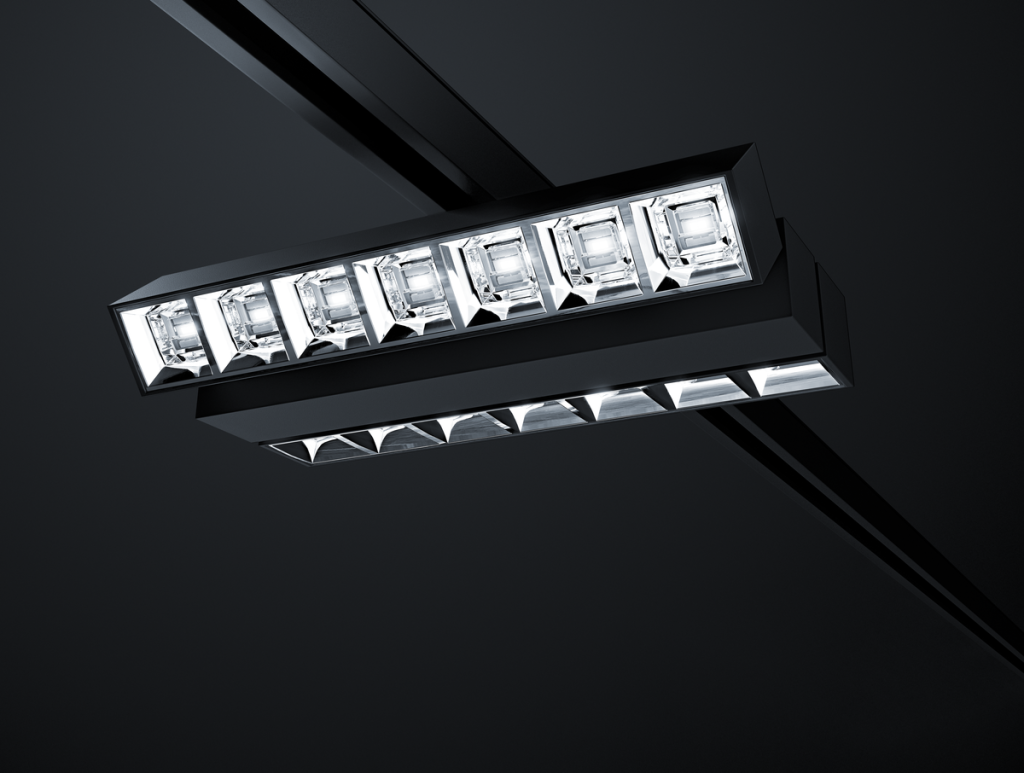 Flexible and future-proof
Thanks to its flexibility, SCENO can be readjusted at any time after initial installation and adapted to room changes and presentation areas. This makes it particularly future-proof and guarantees elegant, sustainable and economical store lighting.