In St Giles Square, is the Wiggle Wonderland for London Festival of Architecture 2022.
The pavilion, which

is activated by

artists and communities, was first launched in 2021

. Supported by Arts Council England and Brainchild Festival.

The LFA 2022 instalment of Wiggle Wonderland and workshop programme

is supported by

Almacantar

.
London Festival of Architecture brings together the public and the profession. In a month-long celebration of architecture and city-making. This year, the Festival's theme of 'Act' invites the audience to reflect on how we should act. In the face of the climate emergency, social injustice, and the needs of a changing society. As well as how we can act for ourselves, each other, and our cities.
Wiggle Wonderland responds to a growing need for spaces that develop a sense of togetherness
. The intention of its creators was to design an unconventional platform. For people from all backgrounds, ages, and abilities. To gather and express themselves
creatively
. From hosting live performances to workshops. The pavilion is a joyful celebration of the power of art to bring together communities.
A new touring pavilion has come to St Giles Square. Wiggle Wonderland will provide a place for children to explore their ideas. About future cities in a temporary pavilion on the public square. On the doorsteps of Centre Point as part of London Festival Architecture 2022.
The collaboration between architectural designer Beau McCarthy and artist Lucy Grainge. Hosted a series of free creative workshops over June until July the 10th. The timber-framed, open-air gallery can
be adapted
. To display the works of different communities in different locations. Works
are hung
from the pavilion's modular beams. As well as the display will
be refreshed by
each new community or artist who hosts it.
The 57 posters within the installation
were created
during workshops.
Run by Wiggle Wonderland at Honilands Primary School, Chestnut Grove Academy and Harris Girls' Academy
. Submissions also came from community arts groups. Including Blackhorse Responders, Rumpus Room and Protest Press, alongside an open call.
Funded by Almacantar and delivered by Camden Council. St Giles Square
is designed
to be a place for residents, families and workers. For them to meet and visit the rich cultural surrounding Central London has to offer. The square itself
is flanked by
the new Crossrail Station at Tottenham Court Road. Wiggle Wonderland marks the Festival's debut in the area.
Kathrin Hersel, Executive Director at Almacantar said:
"
Children are such a vital part of London's future, and our culture and economy will
be shaped by
them. Wiggle Wonderland epitomises this year's
LFA
theme 'Act'. By promoting freedom of
expression and reminds us in a raw and brilliant way. What is important to the next generation. The
imaginatively
artworked thoughts of each child are to
be enjoyed by
people. That are returning to central London to shop, eat and work.
As we revive our cities post-pandemic, it is more important than ever for us to show innovation, creativity, and resilience
. Through design in our outdoor spaces that
we can enjoy together."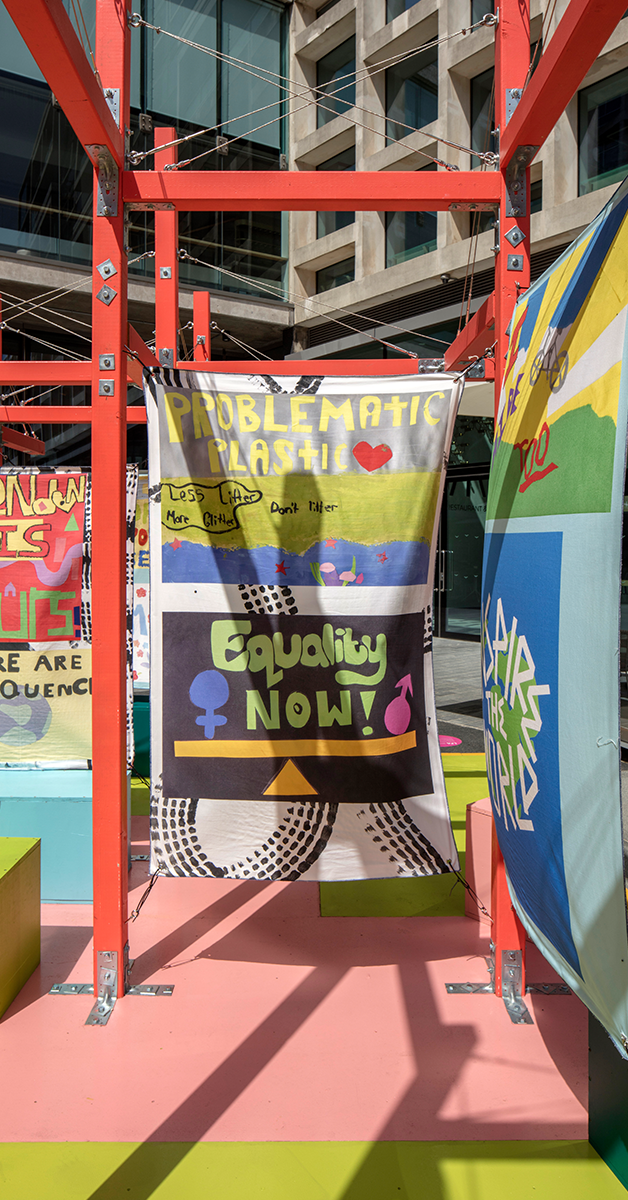 Rosa Rogina, Director of London Festival of Architecture said:
"We
are thrilled
to see Wiggle Wonderland come to life in St Giles Square for London Festival of
Architecture 2022
. With the generous support of Almacantar.
The installation and supporting
workshops not only respond to this year's theme of 'Act' but also reflect the core values of Festival
.
Community engagement, collaboration and co-creation, and celebration of our city and the people who make it
.
"It has been fantastic to see such a diversity of young voices engage with the project.
Tackling challenging questions around the future of our city and who it's for through discussion and making
.
By
temporarily
reshaping London's public realm. We want to Festival to act as a vehicle for change
and new ideas to
be tested
. This project is a wonderful example of what can
be achieved
.
When the industry and beyond come together to create something that excites
and engages the public
."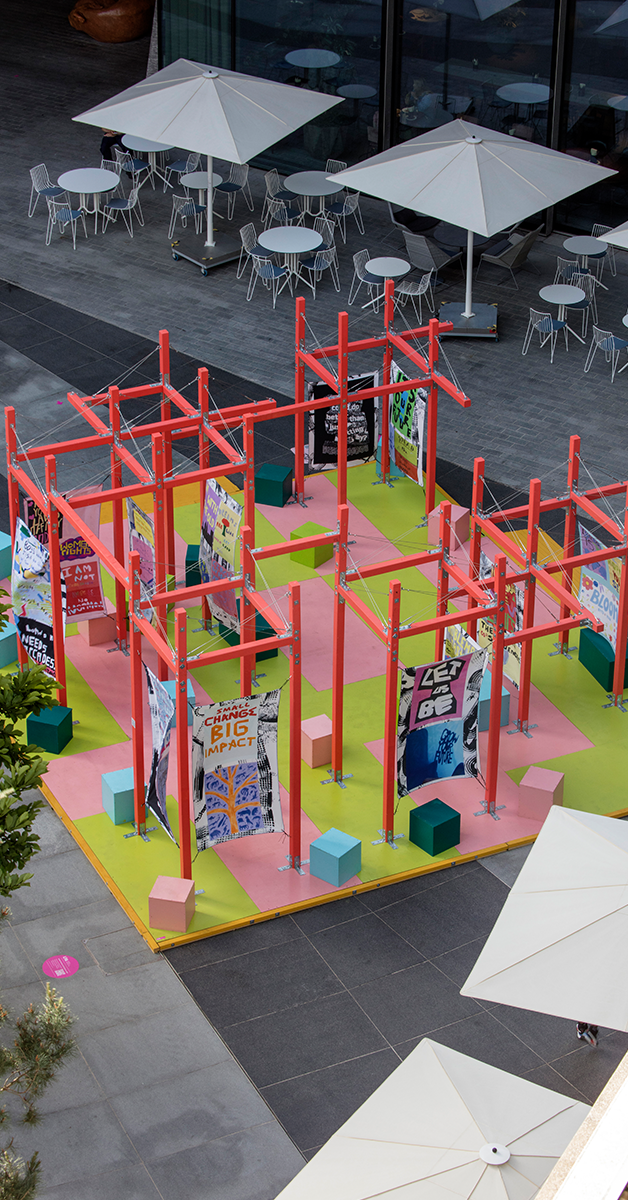 Wiggle Wonderland Founders Beau McCarthy and Lucy Grainge said:
"Responding to the LFA theme #act. We wanted to platform the voices of children and young people. To give them the space to
creatively
express their dreams and hopes for the future of their city and beyond. To a global audience. We felt it was such an incredible opportunity for their artwork to
be shown
. In such a prominent central London location in St Giles Square.
The idea was also grounded in looking at Article 12 of the UN Convention Rights of a Child – Participation Rights
.
Within the workshops we discussed that children have the right to
be involved
with decision making
. That affects the future of their city, the right to express their voice and take an active role in society-
ie.
Talking to their MP's, public protesting, taking part in workshops and debates etc. Children and young people will be inheriting our cities
. So it's vital they get to have a
say on their future.
We wanted to create a vibrant, uplifting and hopeful space inside the Wiggle Wonderland
. Which was both fun and encouraged reflection and conversation.
Over the month we've hosted artists activating the space through interactive workshops.
Such as Leap then Look's Mile of String,
Fandangoe Kid exploring space and identity, illustrator Matilda Ellis' Drawing Playful Futures
workshop, environmental collective A+E and more
. Many of our workshop facilitators interpreted
the LFA theme. As the important 'act of making, creating and the act of dreaming up new worlds,
cities and futures'.
We want the Wiggle Wonderland pavilion to be a space where people and communities can come together
. To experiment, collaborate, create and begin conversations.
It's been brilliant to have the support from Almacantar.
London Festival of Architecture and
Camden Council to bring this instalment of Wiggle Wonderland to St Giles Square
."