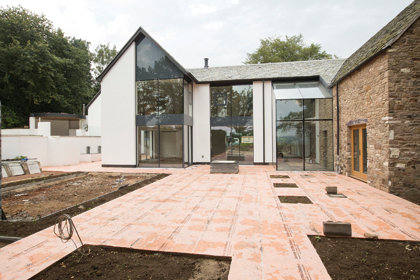 Chitterman House, Leicestershire, has been transformed from a 19th Century home into a stunning, modern family property complete with eco-friendly and sustainable features, including the award winning Schlüter®-BEKOTEC-THERM underfloor heating system.
The grand design has been built across two floors accommodating five bedrooms, five wetrooms and 8,500 sq ft of living space, whilst outside the project has included the installation of a gym, games room and garage.
Schlüter®-BEKOTEC-THERM was chosen as the perfect heating method for Chitterman??s needs because it runs at a low temperature and gradually releases heat evenly across a wide surface without leaving any cold spots. The innovative product has been used extensively in the project??s outbuildings as well as across the ground and first floor living areas including bedrooms and wet rooms.
As well as using Schlüter®-BEKOTEC-THERM, the project also used a variety of other innovative Schlüter products to make sure that its floors and walls are safe and secure.
Schlüter®-KERDI-BOARD was used to provide a perfectly even substrate to fix to, whilst Schlüter®-DITRA matting was used substantially under all tiled and stone floors to serve as an uncoupling layer, bonded waterproofing solution and vapour pressure equalisation layer. All five of the building??s wet rooms used products from the Schlüter®-WETROOM range and all tiles internally were finished using stainless steel Schlüter®-SCHIENE threshold strips and aluminium Schlüter®-QUADEC wall profiles, which offer edge protection and decoration, whilst outside on the terrace, Schlüter®-DILEX movement joints were chosen to offer long lasting support.
Schlüter®-BEKOTEC-THERM uses less material than other systems and is a highly durable application as certified by a number of independent institutes. The system is also available with a five year assembly warranty. Unlike other systems, which just provide component warranties, Schlüter®-BEKOTEC-THERM customers can have the peace of mind that the warranty covers the whole floor assembly therefore adding additional safety and benefits to the innovative system.
01530 813396 | sales@schluter.co.uk | www.bekotec-therm.co.uk