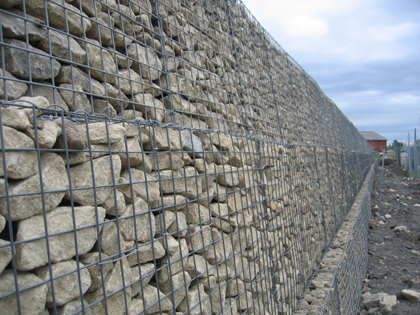 Smiths?? Gabion stone is primarily used to fill gabion baskets for ground stabilisation, or used for retaining walls of terraces or river and stream banks, embankments and bridge abutments.
Things are now changing, with the ability to supply a mixture of sizes in both stone and basket, Smiths have opened up a whole new creative use for this product. Landscape and garden designers are using these ??architectural?? features in their new concepts. Civil engineers are specifying gabion in their landscaping concepts for both public areas and private gardens.
Gabion stone is a crushed limestone and has the typical Cotswold hue, which softens the appearance in a large engineering project but equally enhances any smaller landscape/garden project.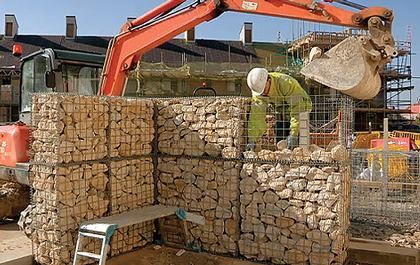 One option is for the whole basket to be filled with 200-100mm Smith??s gabion limestone, or if smaller sizes as required these can be made to order. This provides a strong and economical ??wall?? with the warm Cotswold coloured stones showing on all sides of the basket.
If the gabion is to be more of a feature than an engineering stabilisation solution.
The baskets can be manufactured in welded or woven wire mesh. Welded mesh provides a more rigid face and is popular for architectural applications, gabion cladding and free standing walls. Woven wire mesh is more flexible and is able to accommodate differential settlements, which makes the specification beneficial for civil engineering works and large retaining walls.
01869 331281 | sales@smithsbletchington.co.uk | www.smithsbletchington.co.uk