Aukett Swanke??s extensive £30 million renovation of the Adelphi, central London??s Art Deco landmark, is underway and on track for completion at the end of Summer 2015.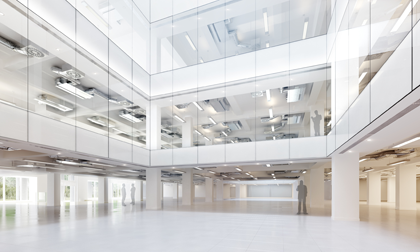 The refurbishment, carried out on behalf of Blackstone, will upgrade and modernise the 190,000 sq ft of open office space shared across the first six floors of the grade II-listed building.
Aukett Swanke??s design concept was to introduce extensive natural light to the floorplates, enhancing the Adelphi??s working environment. The building??s original lightwells are to be reinstated while the existing tinted glazing will be replaced with high-performance clear units, transforming the façade.
The main entrance foyer onto John Adam Street is being restored and the design includes dramatic new interior elements reflecting the Adelphi??s Art Deco heritage. A new double height reception area has been introduced to Savoy Place which, together with the reopened entrance to Adelphi Terrace, reinvigorates the building??s original street entrances.
A 4,265 sq ft restaurant and 1,060 sq ft café will be remodelled from the existing ground and basement floor office space. The new restaurant and café will reinstate the original door entrances, paying homage to the Adelphi??s 1930s retail character.
Suzette Vela Burkett, Managing Director of Aukett Swanke, said: ?Aukett Swanke??s designs mark a sensitive update for the Adelphi, fusing a modern working environment with the re-emergence of those features which made the building an Art Deco landmark. We have flooded the interior with natural light by reintroducing the previously lost lightwells, creating striking atria that provide a twenty-first century working environment within a 1930s icon.??
With its Thames view, central location and Art Deco heritage, the Adelphi is one of London??s most recognisable riverside landmarks.