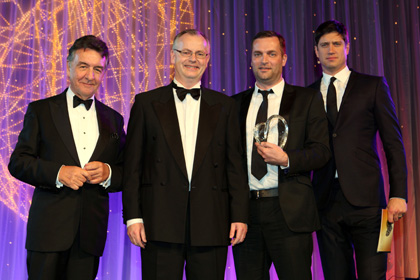 A Manchester architect has been recognised for his commitment to Ronald McDonald House Charities, a charity that provides free accommodation to families who have children in hospital across the UK.
Steve Burne, managing director of Manchester architecture practice AEW, was presented with the Charity??s President??s Award at its recent 25th anniversary gala dinner. He was the unanimous choice of the judges for the award at this year??s event.
Steve??s involvement with the Charity is both personal and professional and he has raised more than £50,000 for Ronald McDonald House Charities in the last decade with fundraisers and charity challenges. That total is set to rise later this year when Steve, along with sons Daniel and Adam, take on the nine-day Argentina to Chile bike ride with the Charity in October.
He has been chairman of the board of governors of the Ronald McDonald House in Manchester, just a stone??s throw from Royal Manchester Children??s Hospital, since it opened in 2012. He also acts as an ambassador with family, friends and professional contacts.
Steve??s involvement with the Charity began as an extension of the work AEW does with the Charity??s supporter, McDonald??s Restaurants, designing new stores and reimaging existing ones. He was asked to design the Charity??s Manchester House and has since been involved with multiple Houses across the country, all at no profit.
?As a parent I can??t imagine what it would be like to have a seriously ill child in hospital and from the first time I visited a House I was committed to doing whatever I could to support Ronald McDonald House Charities, whether that was by cycling for miles, holding fundraising evenings, telling everyone I know about the Charity or supporting it in more practical ways through the business,?? said Steve.
?It??s great to see exactly where the money you raise is going, and see the difference it makes to families going through the most terrible and difficult time.
?To receive the President??s Award was an enormous honour, and a huge surprise. I cycled across Vietnam in 2009 for the Charity, so I know what I??ve let myself in for with the South America challenge in October. With Daniel and Adam alongside me it will be the trip of a lifetime as well as raising money for the Charity.??
Ronald McDonald House Charities is an independent charity which provides free ??home away from home?? accommodation at specialist children??s hospitals across the UK. It enables seriously ill children to have their families close by when they are undergoing treatment and allows them to maintain a degree of normal family life.