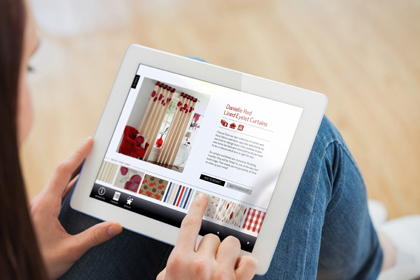 With the market starting to move it's now that house builders are looking to their Extras and Upgrades offerings as a way of differentiating themselves from their competitors and defining their own brand values.
A fully interactive digital system offering house buyers the versatility and flexibility of a full range of added extras and upgrade options truly distinguishes the market savvy house builder. The process can be completely streamlined enabling the buyer to specify fixtures and fittings to suit their design taste and lifestyle.
Steve Brown, bluesky MD comments ??We have been responsible for the launch of some of the industry's best extras and upgrades programmes such as Barratt Homes' 'Choices' And George Wimpey's 'Options'; and we are now taking our expertise in home product retailing and creative marketing to the next level and offering a full digital service.
Donna Brown, Creative Director at bluesky added "Home style consultants used to spend many hours with customers talking them through all the possible extras and upgrades. They had to know every product option, house type and build stage compatibility, installation variances, sort quotes, place orders, manage orders, advise the site, who in turn had to advise trades of relevant changes to spec and keep the customer informed of progress, all with a smile! The whole process can now be digitally streamlined, making it easier to sell and implement extras and upgrades, resulting in happier staff and delighted customers."
Technology is allowing the forward thinking house builder to work with the concept just like a retailer would so ranges can be kept fresh and on trend.
For further information please visit www.bluesky-co.com