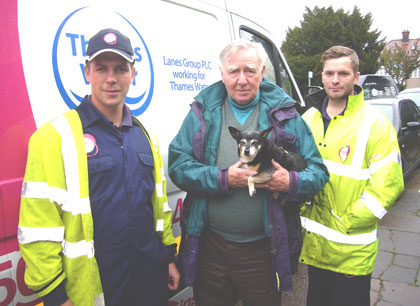 Firefighters have praised Lanes Group engineers for playing a vital role in rescuing a little dog called Dottie from more than 100 feet down a drain in a public park.
The six-year-old Chihuahua-Jack Russell cross is believed to have dashed after a mouse or rat when she disappeared down the storm drain in Sunny Hill Park, Hendon, North London. When the fire service realised they could not find Dottie, they put an urgent call through to Thames Water who requested engineers from Lanes Group, its wastewater contractors, to attend.
Thanks to the joint rescue effort of the fire service and Lanes Group, the UK's largest independent drainage and utility specialist, more than three hours after Dottie's ordeal began she re-emerged unscathed.
Dottie's owner, pensioner Percy Reboul, said he had nothing but praise for the rescue team, adding: "We are incredibly grateful to all those who helped. It was Britain at its best!"
Dottie was being walked by Jayne Donegan, a friend of Mr Reboul, when the dog suddenly bolted down the 10-inch wide concrete pipe. When she failed to reappear, Jayne called the fire service, which sent a fire engine and fire rescue vehicle, with eight firefighters, to the scene.
They quickly realised that they had no idea where the drain went, or where Dottie could be within what was likely to be a maze of pipes under the park. So they called for expert help, and Lanes Group drainage engineers Dave Hicks and Jacob Edwards were alerted and dispatched to the park.
Dave Hicks said: "We could hear Dottie barking, but she was obviously a long way into the drain system. By this time, Mr Reboul was at the scene and understandably very concerned. We guided a look-see drain camera, which is a high quality camera with a powerful light at the end of 50 metres of flexible cable, down the drain.
?About 15 metres in, the camera went past a T-junction along a downstream pipe to the left. After 20 more metres we hadn't seen Dottie. So we pulled the camera back to the T-junction. Because of the way the pipes were designed, we couldn't send the camera upstream.
?So the fire crews dug about a metre down to the drain and broke into it. We could then put the camera back into the pipe and send it upstream. After about 20 metres, looking in our monitor, we could suddenly see a pair of shining eyes blinking at us. It was Dottie, sitting in the pipe.??
It was one thing to find Dottie, another to get her out.
Dave Hicks said: "She could have been spooked and run further up the pipe. Also, there was a blockage in the pipe, just in front of her, which might have been confusing her. However, Mr Reboul called for Dottie down the pipe. When she saw the light and heard his voice, she squeezed past the blockage and headed towards us.

?We pulled the camera back and she followed the light, so we got ready to lift her out of the pipe at the T-junction. All of a sudden, though, Dottie disappeared from the monitor screen. We didn't know where she had gone. We thought she might have gone back up the pipe. Then, a moment later, she appeared out of the drain where she had originally gone in. She must have followed the way she came in and just headed for the exit.??
Dottie's safe return sparked cheers and smiles among the rescuers, and the many members of the public who had gathered to watch. Dottie, however, seemed unconcerned.
Mr Reboul said: "My wife and I have lived near Sunny Hill Park for more than 60 years. Every day over those years, our various dogs have exercised in the park without incident. That's until Dottie went into the drainage pipe and disappeared. The thought that she would be buried alive within the acres of pipework in the park was a nightmare. So you can imagine our relief when, thanks to the skills of the firefighters and the emergency services of Lanes Group, she was finally recovered."
Station Manager Mark Blomfield, of London Fire Service, in charge of crews who responded, said: "There is no doubt the Lanes engineers played a vital role. Without their expertise and equipment, we had no idea where Dottie was in the drainage system so could not mount a rescue. They did a brilliant job. It was a great team effort."
Lanes Group Field Manager Alan Fairbairn said: "We're delighted to have been able to help find Dottie. The team is chuffed to bits that we got such a good outcome. As a company, we deal successfully with thousands of emergencies every day. But to solve one that's so cute and comes with a wagging tail is, in my experience, unique."
For more information about Lanes Group, please visit: www.lanesfordrains.co.uk.