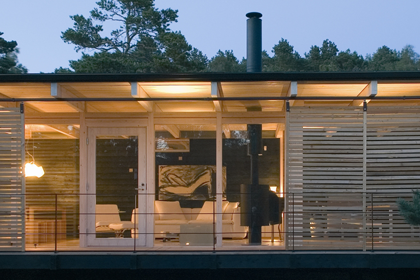 Puuwoodholzbois.com presents high quality Finnish wood architecture and wood construction solutions such as the Finnish leisure homes. One of the leisure homes presented is Seaside Cottage in Kustavi, Turku.
A bedrock plot in the Turku archipelago, southfacing onto a beautiful seaview. The starting point for the building plans for the island plot was to build as low and as discretely as possible, while affording excellent views of the archipelago landscape.The cottage is fit for winter habitation and has a waterside sauna and car shelter.
The buildings are constructed from prefabricated parts made of Finnish timber. The timber frames are designed according to the modular system.
The blind panel walls on the north side are cladded in dark stained panelling. The partition lends an added sense of privacy and creates a background to the seaward facing glass wall which looks out onto a picture postcard seascape. The long eaves of the buildings lend them added shelter and emphasise their horizontal aspect. Movable wooden louvre shutters provide additional shade from the sun.
The roof timberwork runs through the building frame and alongside the upper windows. The pleasing dimensional coordination of the buildings?? modular structures is evident in both indoor and outdoor spaces. In the evenings, floor-embedded lighting sets the ceiling aglow.
All external architecture, fittings and décor have been comprehensively installed. The rear wall is stained in black. The bulding frame and interior flooring are stained in white. The movable wooden shutters, terrace surfaces and walkways on the south face are made of larch. The indoor spaces are made of birch in various forms and the partitions, sliding doors and fixtures are in birch plywood.