Hawkins\Brown, Mae, and Grant Associates have been appointed by London Borough of Camden to develop proposals in collaboration with residents for the potential redevelopment of the Agar Grove Estate, a major housing regeneration project for London with an estimated construction value of £55 million.
The project is part of the Council??s Community Investment Programme and aims to be an exemplar for the borough, with high sustainability standards and a ??fabric-first?? approach to increase energy performance. ?? ??
Located North East of Camden Town on a site adjacent to two railway lines, the original estate dates from 1966 and was built in a Modernist style. It was built as social housing and comprises 249 homes arranged in a series of low-rise blocks clustered around an eighteen-storey tower (Lulworth) served by its own shop and café. ?? ??
Through a rigorous process of consultation with the estate??s residents throughout 2012 and 2013, the current proposal being developed includes the demolition of 112 homes and the provision of around 360 new homes, bringing the total number of homes to around 500. Lulworth residents are being consulted on the future of their block, which could be refurbished or demolished but, in either case, the existing 137 flats will be replaced. The mixed tenure regeneration scheme will be funded through a combination of market and shared ownership sales and grant funding. ?? ??
The proposals are still under consultation though, if approved, all existing tenants will have the opportunity to be re-housed on the regenerated estate and a careful phasing plan has been developed to ensure most residents only have to move once from their existing flat to their new home.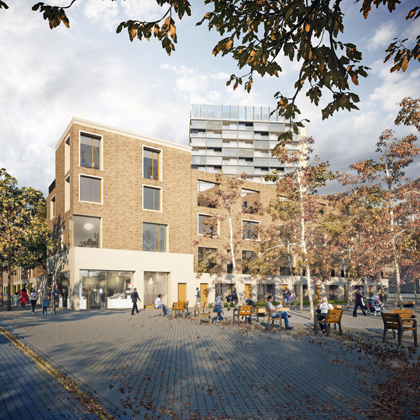 Peter Chmiel, Director, Grant Associates commented, "The project will provide the residents exemplar housing with an extended network of traffic calmed streets and green garden spaces which will bring play, sensory delight and contact with nature into the heart of the estate."
Seth Rutt, Partner, Hawkins\Brown added, "Camden is showing real commitment to sustainability – both environmentally and socially. The client is keen to build on ??fabric first?? principles to exceed legislation and tackle fuel poverty. Camden are also committed to keeping the existing community on site, which we will be doing with a phased, single decant – residents will be able to watch their new homes being built – and then move in."
Alex Ely, Partner, Mae concluded, "Camden have a commitment to delivering high quality design and we are delighted to be part of the team for this significant regeneration project."