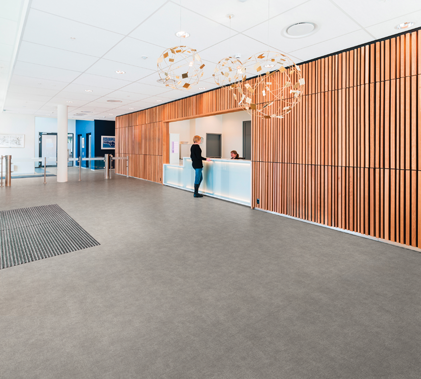 Polyflor has announced the launch of Polysafe Arena PUR, a brand new innovative range of decorative safety flooring. Uniting the worlds of design and function, Arena offers modern, on trend designs with built in sustainable wet slip resistance.
This affordable collection comprises of 12 subtle and sophisticated shades in four distinct design concepts, concrete, stone, linear and fabrique.
These individual designs form a beautiful and versatile collection which is suited to front of house showcase areas but is equally at home in the more functional areas within a building.
To respond to customer demands for design-led flooring with built in slip resistance and building on the recent success of Polysafe Modena PUR, Polysafe Arena PUR features the inclusion of clear aluminium oxide particles both on the surface and through the performance layer to generate sustainable wet slip resistance. Once viewed on the floor these safety aggregates are virtually invisible and Arena??s high clarity designs and textures are highlighted.
Like all Polysafe ranges, Arena meets all the usual slip resistance requirements, achieving 36+ on the Pendulum wet test with full conformance to HSE Guidelines and EN 13845. Arena also passes the 50,000 cycles abrasion test demonstrating the sustainability of slip performance.
??Polysafe Arena PUR combines all the tried and tested qualities of Polysafe with the look of a smooth flooring range and is the next step in the evolution of decorative safety flooring?? explains Polyflor??s marketing manager Tom Rollo. ??There has been no compromise in the design of Polysafe Arena PUR and the end result is an extremely versatile range which due to its warm and calming aesthetics we expect to be specified to provide safety underfoot in housing, residential care and front of house commercial areas as well as in more traditional safety floor areas??.
Polysafe Arena features the renowned Polysafe polyurethane reinforcement (PUR) cleaning technology that??s tried, tested and trusted. Cross-linked and UV cured, Polysafe PUR is a super strength reinforcement designed to make Polysafe Arena PUR even easier to clean, provide optimum appearance and colour retention as well as improved soil release. Using a micro mop maintenance regime, chemical usage, energy intensive cleaning and water consumption are significantly reduced and life cycle maintenance costs of up to 60% are achievable over a 15 year period when compared to untreated safety flooring.
For more information telephone 0161 767 1111, email info@polyflor.com or visit www.polyflor.com