mæ was appointed in 2010 to design Hammond Court following a framework competition to design this 43 unit residential scheme comprising a mixed tenure ?? social rented and shared ownership units.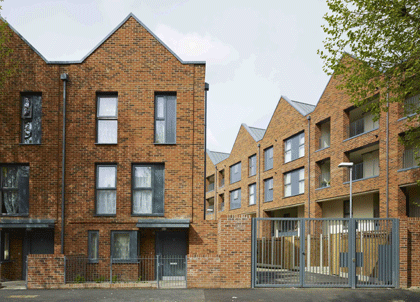 Hammond Court is an estate regeneration replacing a series of 1970s buildings. Built by housing association, East Thames Group, it provides new high quality affordable homes in Waltham Forest and has provided important regeneration for residents and the local community alike.
Following extensive consultation with the residents of the former housing estate, mæ??s architecture was specifically designed to create distinct buildings and generous well planned homes.
mæ??s architecture is outward facing, addressing the community. A perimeter block of houses, maisonettes and apartments step up from three to five storeys and enclose a quiet, south-facing landscaped communal garden. Inspired by the ??Half House?? type developed by Warner, mæ created its own housing typologies that allow high-densities whilst offering front doors to the street. All dwellings have private amenity space in the form of balconies, winter gardens or private gardens.
mæ has designed a development with a strong sense of place and a distinct typography that includes clean lines, sharp gables and pitched roofs. It draws on qualities of the local vernacular: good proportions, large picture windows and attention to detail. Bold red brick throughout the scheme references the architecture of the Warner Estate, while buff brick has been used on Mission Grove to visually link the development to the Grade II listed Clock House built by Courtenay Warner in the late 19th century.
The units have been designed to the generous space standards of the East Thames Design Guide and have achieved Code for Sustainable Homes Level 4. In addition, 10 per cent of units are designed to accommodate wheelchair access.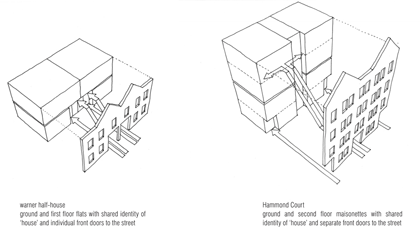 Alex Ely, founding partner of mæ Architects says ?? The innovative legacy of the Warner Estate development of the late 19th and early 20th century provided our cue for design. We are delighted to see the scheme add architectural richness to this area of London.??
East Thames assistant director of development, Trevor Burns said: "We have seen Hammond Court transformed into an impressive development, with a design that compliments the character of the area. With an emphasis on family homes, the site has provided attractive and high quality homes for local residents.??
For images or further information contact Anna Meyer on annacmeyer@gmail.com or 07747 000 898.