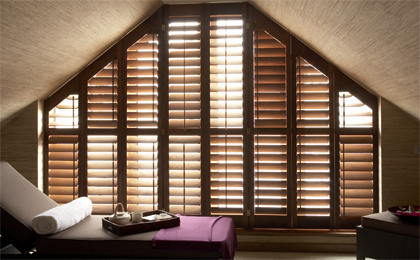 The New England Shutter Company is totally unique. As one of the only companies, which designs and makes genuinely bespoke solid timber shutters, it has an international reputation with top interior designers, leading architects and private clients.
Every element of a New England shutter, from blades, stiles and tilt rods to frames and hinges, is specially manufactured. Internal and external shutters for windows and doors of any shape and size can be made in a huge variety of timbers including Tulipwood, Ash, Oak, Walnut and Cedar. Sustainable exotics such as Zebrano, Ovangkol and Pearwood are also becoming increasingly popular. Finished to order, they can be left as natural wood or painted, stained, lacquered or oiled. For a really spectacular finish, shutters can be custom covered in leather, faux suede or fabric. The New England Shutter Company??s products are individually built by traditional carpenters, using premium sustainable timbers. Tailor-made to provide solutions for even the most unusual locations, they are stable, strong and beautiful.
The New England Shutter Company has an in-house design team, providing solutions for even the most complex projects. Their trained measurers/fitters operate nationally and internationally and the company manufactures all of its shutters, employing highly skilled craftsmen in its own ethically-run factory in Dubai. From ordering to fitting, the whole process is streamlined and efficient, offering peerless quality and a 100 per cent bespoke service.
For more information telephone 0208 675 1099 or visit www.thenewenglandshuttercompany.com