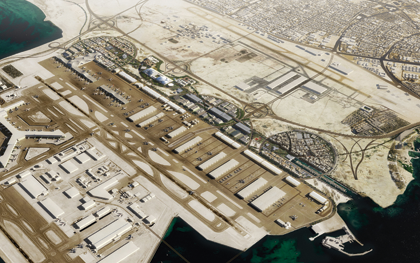 Image: OMA airport city for Doha © OMA
This month??s Question Time looks at the debate on airport capacity
Airports are growing. All buildings that house public forms of transport are in fact shifting in their foundations to provide passengers, travellers, commuters and visitors an enhanced experience when they embark upon their journeys. More importantly, to handle the sheer volume of people that are travelling internationally
At the beginning of 2013 there was much debate brewing with regards to the limited capabilities of Heathrow Airport and the suggestion that it should expand to accommodate came under some scrutiny as to how the airport would expand and in which direction. Zaha Hadid was cited as the architect who would be developing plans for the new multi runway hub airport. The designs, as request by London Mayor Boris Johnson, would boost the British economy and put Heathrow up there with its international contemporaries.
Airport expansion has always courted controversy and debate, whether it is where it will expand or how much it will cost.
The question this issue is how can we expand and develop our airports more effectively and, are there any other forms of architecture that can boost the British economy on a similar scale?
Kim Morris, Partner, Barton Willmore
There is no form of architecture that can have the impact on a nation??s economy like a major international airport. Its catchment area is limitless, literally the entire world, and the number of jobs created by a prestigious hub airport like Heathrow is almost immeasurable. Perhaps only a massive and sustained campaign of public sector housebuilding would come even close to having a similar impact.
The economic impact of an airport like Heathrow is sharply brought into focus when you consider the bigger picture of the area in which it sits and the infrastructure and economy that has grown up around it over time. Great numbers of companies have located themselves to the west of London, from Hammersmith to Newbury, because of their proximity to Heathrow.
Now reflect on what is likely to happen to this area if new airport growth and focus were directed towards an entirely new location. It is unlikely that Heathrow, and the industries that surround it, would survive unscathed. Indeed Heathrow??s downgrading or closure would disrupt the pattern of housing and commercial demand in the south east in ways that we cannot yet predict.
In the face of such controversial, contentious subjects such as airport expansion great architecture has a pivotal role to play both in gaining public support and enhancing public perception. Mass transit systems are used by many millions of people every day and they are all, knowingly or unknowingly, making judgements about the brand based on their experiences. This is accentuated in the case of an international airport, which as the gateway to a nation is the place where many visitors form their first impression.
Any increase in airport capacity, whether it be Heathrow, Boris Island or even Birmingham or Manchester, will impact greatly for better and for worse on the lives of great numbers of people living within reach. The design and feel of the building and, crucially, the infrastructure surrounding it, is the most important means of communicating its values. Get it right and, in time, even the most unpopular development can be loved.
Elliot Wishlade, Arup??s UKMEA Airport Planning team
Decisions on airport expansion are controversial and difficult: the failed 2003 White paper, ?The Future of Air Transport?? illustrates the point, while the current Airports Commission is no doubt discovering the issues first hand. It is a societal and political task to determine whether the benefits sufficiently offset the impacts. But once decisions are taken, it is imperative that airport planners and designers design expanded facilities to be as efficient and resilient as possible.
The use of Big Data – the vast quantities of electronic data generated by travellers, airport operators and service providers – could enable us to do this far better.
Legitimate questions of personal privacy aside, the benefits of using Big Data could be substantial. For example, GIS tracking of mobile devises tagged to flight information could give a far more detailed understanding of where passengers originate, how they travel to the airport, how long before the flight they arrive and where they spend their time while in the terminal. Important information could be gained on responses to events such as traffic congestion and rail disruption, identifying which incidences have the greatest impact and where they most regularly occur. Monitoring social website traffic might also provide airports and airlines with an early alert of disruption and indicate the scale of impact that might be anticipated. Passengers could then be contacted and offered upgraded parking closer to their terminal allowing them a better chance of catching their flights. With improved real time information, airports could be better prepared to respond to disruption and minimise the consequences. Sharing this information with passengers in the right way could give them more certainty of their journey time to the airport, transfers into and then processing through the terminal, resulting in happier, less stressed passengers and more efficient operations a win-win situation for all.
Once in the terminal, a similar tracking approach could provide detailed information on occupancy levels in each part of the building. This could inform decisions on the re-use of under-occupied areas as well as identify capacity bottlenecks and the precise circumstances when they arise. The behaviour and movements of ??late to gate?? passengers could be better understood so communication systems could target this group of passengers to minimise disruption for others. Real-time occupancy monitoring and predictive profiling could also allow HVAC systems to respond accordingly, reducing energy consumption and enhancing the quality of the passenger environment.
Given the impacts of airport expansion, it is right that design decisions are well founded. Evidence based decisions result in better design, while capturing and analysing the wealth of data increasingly available from electronic transactions, mobile devices and CCTV monitoring would provide a granularity of detail far greater than previously available. Of course, issues of personal privacy, data ownership and equality of access to technology would need to be addressed, so the decisions don??t get any easier.
About the panelists:
Kim Morris, Partner, Barton Willmore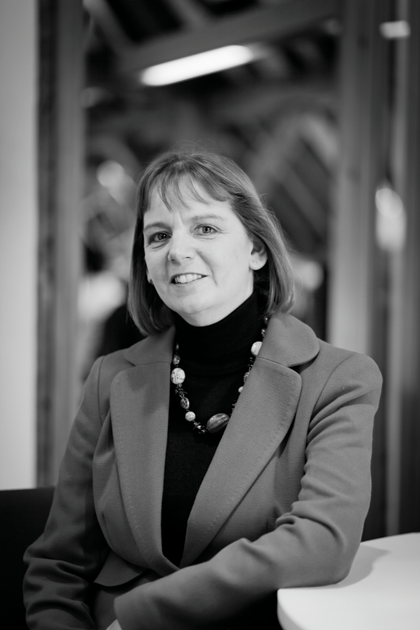 Kim has a wide range of experience on residential, mixed use and commercial projects on behalf of housebuilders, landowners, developers and public companies. As part of a multidisciplinary planning and design practice, she regularly provides insight to Architects and Urban Designers to optimise designs for planning consent. Her work has included being the lead consultant role on a number of large scale projects in the Thames Valley. Established in 1936, Barton Willmore is one the UK??s leading independent planning and design practices. The practice became an LLP on 1st April 2009.
Elliot Wishlade, Arup UKMEA Airport Planning team
Elliott has over 25 years?? experience working on the policy, planning, design and delivery of airport terminals and infrastructure projects in all parts of the world. He has worked for Arup in offices in the UK, USA and Australia, working on numerous airport master planning and technical due diligence projects. Elliot was a principal advisor on airport planning matters to the UK Government for the 2003 Airport White Paper and is currently heavily involved in Davies Commission submission work.