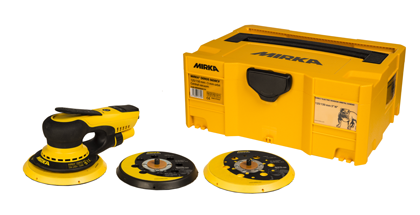 The Direct Electric Random Orbital Sander (DEROS) launched by Mirka, plugs into an ordinary power supply, making it easy to move around, and is suitable for multiple sanding operations to produce a highly effective smooth finish.
The DEROS is designed to deliver a rapid, efficient, consistently powerful performance comparable to a conventional 500W electric machine, even under heavy load. It is economical to use, reducing energy costs. This low-maintenance, extremely reliable sander has a long lifespan and features a ??closed construction?? preventing dust from entering the motor, avoiding typical wear and tear damage experienced by electric machines.
The DEROS has a low profile so the hand is close to the vertical surface, delivering good control over the sanding process. Its long body encompasses a two-hand, ergonomic grip, effective for heavy sanding applications. It has low noise and vibration levels, reducing arm fatigue and minimising the risk of Hand Arm Vibration Syndrome.
Its innovative features also include a soft start function, a built-in electronic motor brake and a smooth, easy to operate level to control and maintain a constant motor speed. A new backing pad brake acts like a seal minimising air leakage between the pad and the shroud, and making dust extraction more efficient. This is particularly important due to the increasing levels of dust associated with some woods and the potential additional work created by extraneous particles during the painting process. In addition, its power cord is removable and interchangeable.
Craig Daycock, Managing Director of Mirka UK, commented: ?DEROS is the new convenient solution for a multitude of sanding operations that is very easy to manoeuvre and use wherever there??s a power supply. Its powerful performance, innovative features and ergonomic design will pack a real punch for end users.??
DEROS is delivered in a Mirka case, including both 125mm and 150mm pads.
For more information visit www.mirka.com