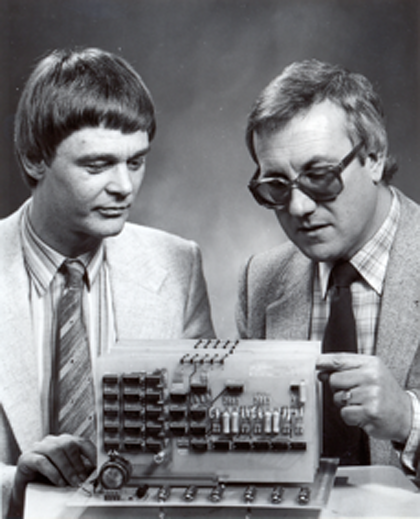 Celebrating their 30th anniversary at Firex International, Baldwin Boxall commissioned a bespoke label for a bottle of ale from their local brewery, Harveys of Lewes. There was a great atmosphere on the stand with visitors enjoying the hospitality they have come to expect from the company??s staff.
Baldwin Boxall was formed in 1982 by four directors, Terry & Patricia Baldwin and Dave & Dawn Boxall, in 1982 in a shed at the bottom of Terry??s garden and Dave??s home. A direct ??communication link?? was set up between to two properties, an unofficial product invention.
They proved to be a great team and, within a couple of years, the shed was upgraded to a railway cottage near Crowborough rail station. A short while later a ??sales office?? (caravan) was added to the site for Terry and Neil Jarvis. This was followed by the addition of a small mobile style building, for storage and packing. In 1990, twenty staff, ongoing expansion (and no more space for further caravans), the company moved into a purpose built factory just 500 yards from this site.
Set up to design and manufacture ??wired communications?? the company developed public address amplifiers, intercom, hotel communication systems and other specialist products. The first product was the Martlett, a 20W stand-alone PA amplifier. There will be some people in the industry today that may well remember (or even still using, such is the quality) early Baldwin Boxall products, which include the ??Micro?? data management system and ??Communicall?? two way speech communications system.
The Adept, a modular range of amplifiers and routing for PA introduced in 1983, was extremely popular and proved to be a real workhorse (in common with many of the company??s products, which are ??built to last??). Indeed, it is known from calls to our technical line, and the occasional return for repair, that Adept systems are still in use today.
Current product ranges include the VIGIL2 voice evacuation system, OmniCare and CARE2 emergency voice communication systems, Eclipse3 stand-alone public address/voice evacuation system, microphone ranges and touchscreen control.
With R&D, sales, projects, specials, assembly, test, quality, packing and despatch teams all based on the one site in Crowborough, the company is able to work efficiently and effectively. Knowledgeable staff, working together as a great team, proud of what they do, are committed to retaining the company??s reputation as one that cares.
For more information telephone 01892 664422 ext *244 or email alison@baldwinboxall.co.uk