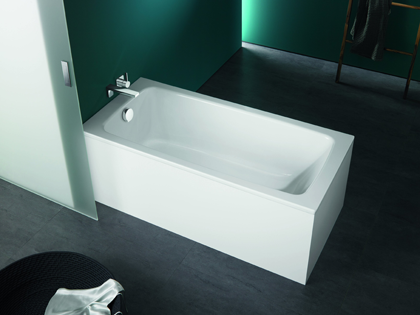 The new Cayono is the latest addition of a comfortable Kaldewei bath that has what it takes to become a classic. The model from the company??s Advantage Collection appeals with modern design, uncompromising quality and an exceptionally attractive price-performance ratio. It is the perfect bath for creating an inviting atmosphere of well-being even in modest bathrooms.

Bathroom design depends on a number of factors: individual needs must be considered, but the planning and furnishing of bathrooms largely depend on the room??s architecture and to an even greater degree on the budget available.

Design and quality at an attractive price
With the Cayono in five different sizes ?? 150 x 70 cm, 160 x 70 cm, 170 x 70 cm, 170 x 75 cm and 180 x 80 cm, Kaldewei presents a flexible solution suited both for the small bathroom and for spacious family bathrooms.
Thanks to its spacious interior, the Cayono provides ample room for a relaxing bath in any size. Its smooth base can optionally be provided with an anti-slip enamel finish for comfortable and safe showering.
The panel rim at the foot end of the bath is wide enough to hold bath utensils, but also for the positioning of fittings if required. Its size meets the requirements of EN 232 and EN 14516 and the Norme Francaise (NF) standard. The foot-end rim of Cayono therefore has the required size for installation of deck-mounted fittings.
Shape and functional aspects of the bath, however, are not the only factors determining its potential for comfort; so is the quality of its material. In order to fully relax, the user must feel comfortable and safe all round. The pore-free, hygienic surface made of superior Kaldewei steel enamel 3.5mm is a sleek basis for an inviting therapeutic bath in the Cayono. Its enamelled surface leaves no place for bacteria to settle ?? a comforting thought especially in the bathroom. Even dried water marks and lime scale residues are quick and easy to remove with a soft, damp cloth. No need for harsh cleaners that harm the environment. The Kaldewei steel enamel bath therefore shows no signs of wear even after heavy use and frequent cleaning, guaranteed for 30 years. These are strong arguments for choosing Cayono for commercial bathrooms, such as in hospitals or nursing homes, also in rented flats with frequent change of tenants.
For more information visit www.kaldewei.com