Pringle Brandon Perkins+Will, the London-based interior architect and workspace design and planning specialist, has won the British Council for Offices (BCO), London and South East best ??Fit-out of Workplace?? Award for its work with Astellas Pharma Europe Ltd. (APEL), the European Headquarters of Tokyo-based Astellas Pharma Inc.(?Astellas??).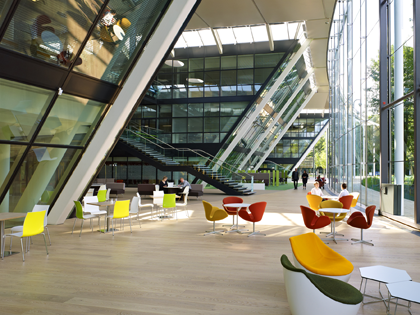 The award, presented on 30 April, was given for work at APEL??s offices at 2000 Hillswood Drive, Chertsey in Surrey.

The BCO Award highlights excellence in office space design and functionality, acting as a benchmark for best practice in workplaces. Having won the London and South East Award, the project will automatically be entered for the national awards, which take place in October.

The 100,000 sq ft office plan has been recognised for its outstanding design which has brought back to life a spectacular building set in 39 acres of landscaped grounds, originally designed by Sir Norman Foster.

Linzi Cassels, Principal at Pringle Brandon, said: ?We are delighted to see APEL??s offices receive one of the most prestigious industry accolades. The offices adopt an agile work style, using a range of alternative work settings to optimise productivity and collaboration, and provide a choice of environments for staff. The design has really supported the culture of the business, creating a connected and communicative working space, and has engendered a sense of pride amongst staff.??

The three storey building consists of two thirds work space and one third ??street?? at ground level – a large and expansive space at the heart of the scheme with views out across the lake and housing a cafe and restaurant, open and closed spaces for meeting and working as well as a large multi-functional auditorium.

The work floors are open plan and promote the concept of ??working everywhere??. Desks are unassigned and a variety of work settings allow teams to choose from kitchen style tables to sofas and chairs, to meeting tables supported by whiteboards, pin up spaces and screening. Additionally, the work floors have a range of small private rooms for small meetings, teleconferencing and quiet working. Showers and changing facilities are also provided for staff with an outdoor gym and multifunctional sports pitch.

The news follows Pringle Brandon Perkins+Will also winning the BCO??s South West Fit Out of Workplace Award for Microsoft UK??s Reading HQ offices.