BDP has won the design competition for a new cancer treatment centre for Hampshire Hospitals NHS Foundation Trust.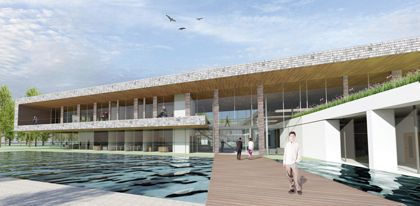 36 architect-led teams entered the competition process from which six were shortlisted including Hopkins, Stantec Anshen & Allen, John Cooper, HLM and Steffian Bradley.
Nick Fairham, Architect Director said: ?BDP is delighted to have been selected to work with Hampshire Hospitals NHS Foundation Trust to develop their vision for the new cancer treatment centre. Our design focuses on the needs of the patients, families and staff to provide a truly supportive and flexible environment while offering state of the art clinical services. The forward thinking approach the Foundation Trust has taken to the procurement of the design and site selection has maximised the opportunity to provide an uplifting and inspiring environment.??
The highly aspirational brief requires a building of outstanding architectural merit that positively reinforces the treatment process and integrates successfully into a hospital campus with regard for future needs. Patient care is provided in a supportive environment combined with state of the art technology for clinical treatments. The aim is for the new centre to be open in 2016.