Pringle Brandon Perkins+Will, the London-based interior architect and workspace design and planning specialist, completed the interior design and fit out of Microsoft Research??s new Research Laboratory at 21 Station Road in Cambridge.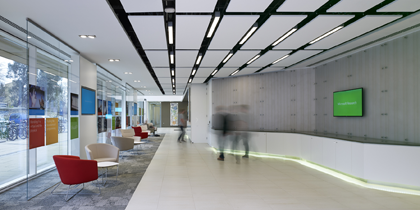 Pringle Brandon Perkins+Will was chosen by Microsoft Research to assist in selecting a new location and building for its relocation and expansion. They were also chosen to develop a strategic brief, concept and design for the 83,500 st ft space, in addition to working with the developer to adjust the shell and core to Microsoft Research??s requirements. Hilson Moran, worked for Brookgate to develop the building for Microsoft, and was responsible for the mechanical and electrical services design and sustainability.

Following a comprehensive feasibility and building analysis, Microsoft Research commissioned the fit-out, interior design and space planning for the new premises, which includes, 125 seat raked auditorium and ante space, Flexible lecture space, 300+ studies and open plan spaces for staff, open and closed collaboration spaces, prototype and testing labs, café and garden terrace, a gym and a 5th floor terrace and meeting suite.

Kate Hopkins, Project Director and lead designer at Pringle Brandon Perkins+Will, said: ?The new ??lab?? is designed as a canvas for researchers to generate ideas. Almost every surface is writable and has the best quality technology integration for collaborating both physically and virtually. Microsoft Research wanted to future proof the building and ensure the best connectivity amongst the lab groups for those perchance idea generating interactions. The design is subtle, functional yet high quality. It should hopefully enable Microsoft Research to continue to ??turn ideas into reality??.??