Nestlé has officially unveiled a new £35 million state-of-the-art manufacturing and distribution facility in Buxton, designed by Manchester-based architects, Fletcher-Rae UK Ltd.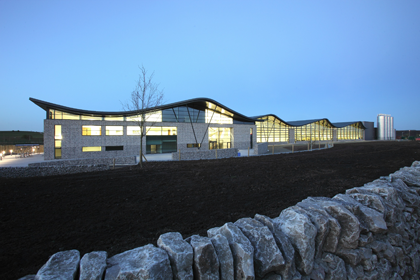 The facility is one of Europe??s most innovative and efficient bottling facilities and, for the first time, combines the bottling plant with warehouse capability. The new production lines have enabled Nestlé Waters to significantly reduce its total energy output, as well as reduce the packaging used in its bottles of Buxton Natural Mineral Water and Nestlé Pure Life Spring Water by an average of 25 per cent across the range, making them one of the lightest bottles in the UK.

Fletcher-Rae acted as the lead design consultant on the entire project, responding to concerns about location and setting by introducing natural local materials, such as a stone/gabion feature facades, together with a dramatic rolling-curved roof-line, which was reflective of Nestlé Water??s corporate branding and the surrounding hills. This ensured the building blended into its surrounding, while satisfying the requirements of a manufacturing facility.

Bob Fletcher, joint managing director at Fletcher-Rae, commented: ?From day one, we realised that the location required an exemplar design and, as such, we took an extremely pro-active approach to the planning and site issues, leading extensive dialogue with the client and all stakeholders. The design is a bold statement of elemental components that are reflective of Nestlé Waters?? commitment to sustainability and its enduring relationship with Buxton.

?The project has achieved a ??BREEAM excellent?? sustainability rating and has been praised by local people and the workforce who really enjoy working in a contemporary environment.??

He added: ?In such a dramatic location, we felt it very important to create transparency, in order to ensure the process was visible to the public and for the workforce to connect with the beautiful natural scenery and elements surrounding the site at all times.??
The new facility is located on Waterswallows Lane at the northern edge of the historic Derbyshire spa town of Buxton. It replaces an existing factory in the town centre, which traces its roots back 101 years.