AN INDIAN YMCA complex designed by UK based architecture firm Lewis and Hickey has won a major industry award.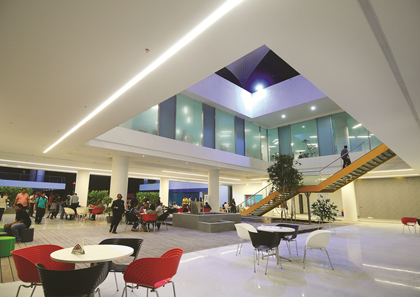 The YMCA building in Ahmedabad was picked as the Project of the Year within the Mixed Use Project category by the editorial board of the Architect and Interiors India Magazine.
The awards, held in Mumbai, recognise the best building projects and designs in India and receive entrants from all over the country.
Lewis and Hickey, who has offices across the UK and an international office in Mumbai, worked closely with the YMCA management team to design the building, which completed towards the end of last year.
Brijesh Kanabar, director at Lewis and Hickey Mumbai, accepted the award on behalf of the firm, he said: ?This was a challenging and complex project to work on and I??m delighted we have secured this acclaimed award.
?The YMCA offering in Ahmedabad is quite different to that of the UK. This project is a private members club offering leisure facilities to professionals so everything about the building had to convey the highest of standards and quality.
?What we have created with our global expertise and local knowledge is a diverse mix of world-class sports and leisure facilities for the people of Ahmedabad. The 350,000 square foot complex includes hotel rooms, a multi-purpose sports hall, indoor and outdoor swimming pool and banqueting facilities.
There are also outdoor courtyards, terraced water features and landscaping as well as play features for children.??
Tim Hall, Managing Director of the Lewis and Hickey London office, said: ?The award was a major coup for the firm and we are extremely proud of the work we have done. The Lewis and Hickey London and Mumbai teams worked very closely with YMCA management in both defining and realising the complex.
?The final result is remarkably close to the original concept, with careful attention to detail and finishes, sourced both locally and worldwide. It was a very successful partnership and the result is terrific.??
The YMCA is based on one of the major roads into the Indian city and the private members club sits alongside both conference and wedding facilities.