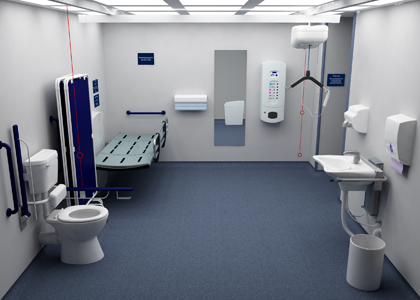 The new Building Regulations Approved Document M has been published, putting new constraints on specifiers for non-domestic buildings. Total Hygiene aims to simplify the issues.
The new Document states that it is preferred to have a wheelchair accessible unisex toilet in addition to any other wheelchair-accessible accommodation in separate sex toilets or washrooms. It is also now ??desirable?? to include an enlarged unisex toilet incorporating an adult-sized changing table; similar to, and including, a Changing Places toilet.
The Document also stresses that suitable sanitary accommodation should be consistently located and available on each floor of multi-storey buildings, to facilitate their use by people with learning difficulties.
Total Hygiene is capable of supplying, installing, and maintaining, in-house, all the necessary sanitary equipment for the new compliance. Its ability further extends to all buildings covered by the new Document, including sports facilities and schools.
Robin Tuffley, Total Hygiene marketing manager, commented, ?We know, from our vast experience already in the supply and fit of inclusive, accessible toilets and washrooms, hygiene rooms, Changing Places toilets and similar accommodation, that specifiers find it hard to find ONE company that can efficiently handle ALL aspects of the creation of such a facility. That is reinforced by the fact that Total Hygiene sponsors the Changing Places campaign.
?Using our 50 years?? expertise, we can, in house, deliver accurate and compliant design advice, supply, fit, and commission, the fixtures and fittings. We can also, if required, service and maintain it all, so once installed, the toilet continues to remain reliably operational for years after. London Gatwick Airport, Paddington Station, the Trafford Centre and Cadbury World are just a few of the buildings and venues that have already used Total Hygiene for provision of their accessible toilet facilities and Changing Places toilets.??
The revised Approved Document M compliments BS8300:2009, which had already recommended as good practice the inclusion of Changing Places toilets or similarly equipped rooms. To date, over 400 Changing Places toilets have been installed across the UK, even before they became a ??desirable?? legaility.
Total Hygiene is finding many venues are incorporating a Changing Places toilet but further optimising its suitability for as many people as possible by replacing a conventional WC with the company??s Clos-o-Mat ??wash and dry?? (automatic) toilet. The Clos-o-Mat has in-built douching and drying, so the user- or their carer- does not have to clean with toilet tissue thus optimising hygiene, dignity and independence.
Tim Gimbert, Cadbury World operations manager explained, ?We have often been asked in the past if we have a hoist in any of the toilets, so that led us to install a Changing Places toilet. Further adding the Clos-o-Mat, which goes beyond the specification, means we are accommodating the FULL diversity of visitors. We hope our new toilets will help us win the prestigious Loo of the Year Award in 2013??.!??
For more information telephone 0161 969 1199, email info@clos-o-mat.com or visit www.clos-o-mat.com