Oldham??s area planning committee has approved plans for the first phase of Oldham College??s capital development programme, designed by Aedas, that will see its Rochdale Road campus transformed into a 21st century learning hub. Work begins on site on 4th February.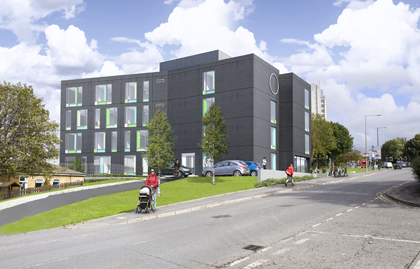 This first phase see the development of a five-storey Learning Hub, situated on the corner of Middleton Road and Rochdale Road. The building will house 28 new classrooms, a community space, new student support facilities, and a new front entrance to the College. It will bring a high quality learning environment, which will also be more energy efficient. It is part of a masterplan which seeks to make better use of the site, and to improve facilities for teaching and learning. It will also improve how the College connects with the town, and contributes to the regeneration of Oldham.
Tony Langan, Director of Aedas said: ?We are delighted that the design has won the seal of approval from its local Councillors and look forward to working with Oldham College and Laing O??Rourke to deliver the transformational vision of Oldham College.??
Principal, Alun Francis said: ??This is part of an ambitious transformation programme for the College and the town. We know that the work of the College is widely valued and that our role in the future regeneration of Oldham, through delivering high quality vocational skills, is very important. This investment, which is largely funded from our own resources, is part of a genuine commitment to raising standards and improving opportunities. The construction will be completed by early 2014, and learners across a number of courses and departments will benefit. We have also aimed to improve the built environment in the town centre, and to ensure that, given the economic situation, there are local labour benefits, including apprenticeships, work experience and a very useful onsite construction project that will give invaluable experience to many of our building services students and staff??.