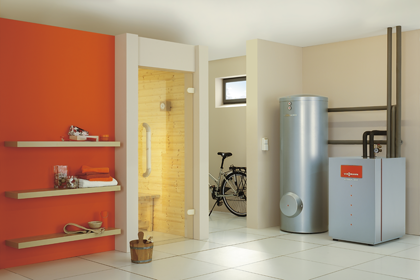 Viessmann will demonstrate the benefits of its system engineering approach at Ecobuild this year. In addition to nine traditional and renewable heating products are a series of sector-specific graphics illustrating how modern, efficient and high performing heating systems can be easily integrated.
Graham Russell, Viessmann managing director, comments, ?At Ecobuild 2013, we are keen to show not only our product range, but how our products?? built-in integration means they are designed from the outset to work together. Whether the installation is in a school, a leisure centre, a house or an office, customers can expect Viessmann to have thought of everything from the ideal combination of technologies to suit the application to one easy-to-use, integrated control system. This translates into a straightforward systems design approach for installers and engineers and superior performing systems, with lower service and maintenance costs for end-users".
Viessmann will reflect its broad offering by exhibiting a product for every major UK fuel type, covering both the domestic and commercial markets. Leading the line-up of German-engineered technology is the new Vitodens 100-W gas condensing boiler, launched for the 2012/13 heating season, alongside the Vitodens 111-W wall hung gas condensing boiler with integral cylinder and the Vitodens 200-W high specification boiler. Renewable products include the innovative Vitocal 200-S split heat pump, Vitocal 200-G ground source heat pump, Vitoligno 300-P domestic biomass boiler and the Vitosol 200-F flat plate solar thermal panel. The company will also show its Vitovolt 200 solar photovoltaic panel (PV).
Viessmann will be at Ecobuild March 5-7, 2013; ExCel; London ?? stand N2620.
For more information telephone 01952 675000 or visit www.viessmann.co.uk