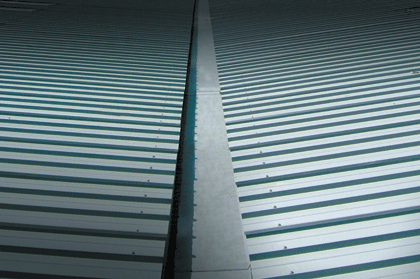 Kingspan Insulated Panels is proud to announce that its premium performance Membrane Lined Insulated Gutter System has become the first, and only, gutter system to be approved to LPS 1181 by the Loss Prevention Certification Board (LPCB). In addition to its excellent fire performance, Kingspan??s Membrane Lined Insulated Gutter System also delivers outstanding thermal performance.
The product can be installed at boundary and valley locations and its highly insulating PIR core allows it to achieve U-values as low as 0.21W/m2K. By minimising heat loss from building details, the system forms an essential part of the envelope, minimising thermal bridging and helping the building to meet the highest energy performance standards.
Mark Harris, divisional building technology director at Kingspan Insulated Panels commented: ?We are delighted that we have the first Membrane Lined Insulated Gutter System to be certified by the LPCB. This ground-breaking achievement demonstrates our on-going commitment to develop products that improve the fire safety of buildings for the benefits of the occupiers, the building owners and their insurers. The specification of LPCB approved Membrane Lined Insulated Gutter Systems, in conjunction with LPCB approved cladding means that we can now deliver an uninterrupted, LPCB insurer approved and thermally effective building envelope.??
The System was certified to LPS 1181 EXT-B under the following specification criteria:
♣ In combination with the system??s 0.60mm PVC external coating, the steel substrate for the external weather sheet must be specified to a minimum thickness of 0.60mm.
♣ Kingspan??s pre-painted corrosion protection coated steel has been approved for the internal coating. The steel substrate for internal linear sheet must be specified to a minimum thickness of 0.50mm.
♣ The system??s high performance PIR insulated core can be specified in thicknesses between 30 and 100mm.
LPS 1181 is one of the most stringent insurer based standards available. The large scale fire test simulates the conditions of a developing fire, providing a determination of the fire growth performance of external cladding products. All Kingspan??s standard composite panel systems have also been certified to LPS 1181: EXT-B.
For more information telephone 01352 717 251, email info@kingspanpanels.com
or visit www.kingspanpanels.com