BDP has been commissioned by the Shanxi Broadcast & TV Channel to design its new Broadcast & TV Centre. This highly significant, provincial level, public sector project is located in Taiyuan, the capital city of Shanxi Province in north China. The development will form one of the focal points of the emerging Jinyang Lake Commercial District, and will play a critical part in the urban expansion of south Taiyuan.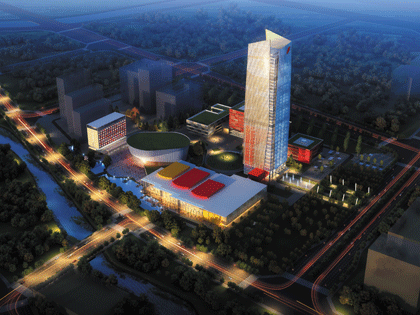 A careful balance of the site??s massing, topography, water features, scale and viewpoints were very important considerations in the masterplan design. The 200,000sqm first phase will comprise six buildings providing offices, assorted film studios, an Internet New Media Centre, Cultural Exchange Centre and other associated facilities.
The principal building is a landmark 198m office tower which will house the press centre, ten studios, post production and broadcast facilities for both radio and TV channels, as well as general office space and meeting rooms.
The main studio on the development will be open to the public and will also contain multipurpose events spaces. This building will be supported by adjacent studios and, together with the Cultural Exchange Centre, is positioned to the west of the site, forming the commercial edge of the development.
BDP is providing architecture, landscaping and lighting professions and will be working with the China Radio Film & TV Design & Research Institute to develop the design. Work has already started on site with completion targeted for 2014.