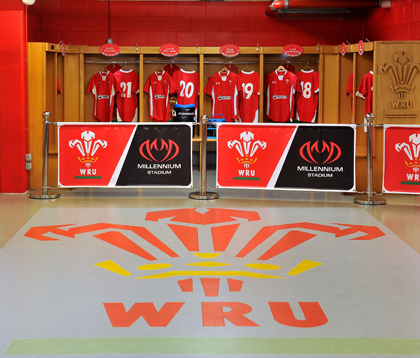 The home team changing rooms at The Cardiff Millennium Stadium, the home of Welsh rugby, have been kitted out with Polysafe Standard Silver Birch flooring and they have had their logo waterjet cut into the floor for added effect.
Polyflor marketing manager Simon James says: "The waterjet cut logo in the floor looks fantastic and is a superb way of promoting yourself to visitors and guests. We??re delighted to have been able to provide such an outstanding floor to such a celebrated team."
Millennium Stadium facilities manager Darren Crossman says: ?The facilities at the Millennium Stadium have to be first-class for the national squad and we??re pleased with the new flooring in Wales?? home dressing room that will also be seen by around 60,000 visitors on our official stadium tours each year.??
Polyflor??s popular Polysafe Standard safety vinyl flooring collection is now available with the manufacturer??s groundbreaking Polysafe polyurethane reinforcement (PUR). Cross-linked and UV cured, Polysafe PUR is a super strength reinforcement designed to make Polysafe Standard PUR even easier to clean, provide optimum appearance and colour retention as well as improved soil release.
Using a micro mop maintenance regime, chemical usage, energy intensive cleaning and water consumption are significantly reduced and life cycle maintenance costs of up to 60% are achievable over a 15-year period when compared to untreated safety flooring.
Polysafe Standard PUR has been awarded the highest possible BRE Global Environmental A+ Rating in major use areas. The product rating is based on the whole life environmental impact of the flooring over a building life of 60 years, thereby contributing to a healthy BREEAM score. Polysafe Standard PUR is 100% recyclable and can be recycled through Recofloor, the industry Vinyl Take-Back Scheme of which Polyflor is a founder and funding member.
For more information visit www.polyflor.com Download a copy of the Polysafe Standard PUR brochure from the website or contact Polyflor Samples Direct on 0161 767 2551 for literature, shadecards and product samples.