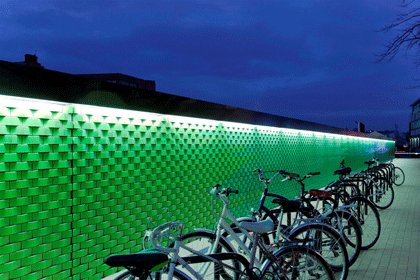 Ibstock, one of the UK??s largest brickmakers, has once again swept the board for short-listed entries ahead of the Brick Development Association??s (BDA) 2012 Brick Awards. A total of 45 Ibstock projects, which highlight the aesthetic appeal, versatility and performance of Ibstock??s range, have been through a rigorous judging stage and have been selected for the final shortlist. The 2012 figure is nearly double the number of shortlisted entries achieved by Ibstock in the 2011 Brick Awards.
Ibstock??s successful projects include housing schemes, as well as public buildings, commercial dwellings and refurb and renovation developments. They contain a number of outstanding and unusual projects such as ??Prototypes for Poor Security?? which demonstrate how bricks can be used in unique styles; West Hampstead Station and The Science Studios – which are both innovative examples of the overall finish that can be achieved with glazed brick. Whilst Kitfield Avenue, is a Cheshire refurbishment project that has been re-clad using BrickShield, Ibstock??s pioneering external wall insulation system. With at least one project shortlisted in each of the thirteen categories, expectations are high that the company can replicate the high level of success of previous years.
The 2012 award ceremony will be held in London at the Marriott Grosvenor Square Hotel in November.
??Andrew Halstead-Smith, marketing manager at Ibstock says: ?We are delighted that so many of our entries have been shortlisted in the prestigious BDA Brick Awards. The breadth of project types that have caught the judges?? eye underlines the type of striking brick-based solutions Ibstock??s extensive range can deliver for architects, merchants and end customers alike. We are extremely proud of the calibre of projects we have entered and pleased we have doubled the amount of shortlisted entries compared to 2011. We look forward to a successful evening in November.??
??Find out more at www.ibstock.com or follow @IbstockBrick on twitter.