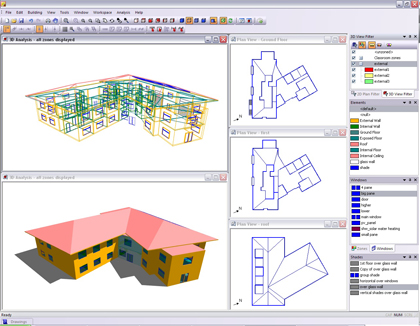 Passivent has launched one of the most comprehensive environmental modelling facilities for buildings to help the design team ensure building services will deliver, even before a single brick is laid.
Working as part of the design team, Passivent can calculate the performance at early stages allowing designers to produce a building which meets Regulations. Passivent then produces a full Dynamic Thermal Simulation (DTS) and daylight modeling, to prove compliance for Buildign Control sign-off.
?To achieve Building Regulations Approved Document L, most commercial buildings are required to have thermal modeling conducted. Many thermal modeling services are undertaken using steady state calculations, but that assumes a constant temperature difference regardless of seasonal fluctuations; CIBSE recommends this technique should not be used to accurately determine a building??s performance year-round,?? says Dennis Bates, Passivent Product Manager.
?Our service uses full computer modeling, developed in conjunction with leading building software house EDSL, can encompass all influencing factors including time of day, time of year, number of occupants and even internal heat sources such as computers, to give an accurate forecast of fresh air and light distribution, solar heat gain, CO2 levels, when the building is built- and for the future."
Passivent??s service has already been used by Honda, for a new showroom, achieving an energy demand reduction of over 80 percent, a ??very good?? BREEAM rating and a ??good to best?? sustainability appraisal.
The new service compliments Passivent??s range of green solutions for building services; its latest product development, SoundScoop, has just been ??highly recommended?? in national construction industry awards.
For more information telephone 0161 905 5700, email info@passivent.com or visit www.passivent.com