Article 25, the UK??s leading international development and disaster relief charity, brings together a stellar line up from the worlds of architecture, art and fashion for the 10×10 Drawing the City London exhibition and auction in Somerset House??s newly restored West Wing. Following the success of last year??s inaugural event, fashion designer Paul Smith, artists Jake & Dinos Chapman, design guru Sir Terence Conran and acclaimed architects Lord Foster, Dame Zaha Hadid and David Adjaye make up some of the 100 creative talents involved this year which sees original and existing artworks being exhibited and auctioned in aid of Article 25.

10 x 10 Drawing the City London gets its name from the grid of 100 squares laid over an area of London, which this year is the West End. Each participant is allocated a square and donates an artwork inspired by the buildings and public space within it, taking in famous landmarks such as Trafalgar Square, Horse Guards Parade, the British Museum and Somerset House itself in 2012. The resulting pieces will be displayed in an exhibition at Somerset House from the 1st to 13th of November. An auction by Sotheby??s of 25 of the exhibited works will follow on the 14th of November at Somerset House. The remaining 75 works will run in a silent auction throughout the duration of the exhibition with all proceeds going to Article 25.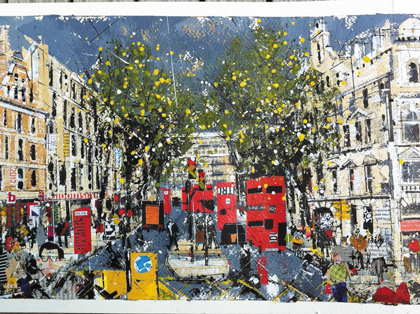 David Adjaye, a participant in 2011 and 2012 says: ?The 10×10 initiative has provided a fascinating and diverse lens through which to see London ?? it is a series of unseen portraits of the city ?? secret views and private interpretations of the past, present and future of our ever- changing capital. Collectively, the work tells an evocative urban story as told by influential urban thinkers and designers. As a project to raise funds for providing shelter for people affected by natural disasters, it also has a powerful global resonance that unites London with other capitals across the world.??
Works are also being donated by current RIBA President Angela Brady, London cable car designer Chris Wilkinson, cityscape artist Ben Johnson and historic buildings expert and TV presenter Dr Jonathan Foyle.
Article 25 uses architectural expertise to rebuild lives and transform communities in the developing world. Named after the 25th Article of the Universal Declaration of Human Rights which asserts that adequate shelter and housing are fundamental to our human rights, the charity undertakes construction projects in some of the world??s poorest countries building much needed facilities in Burkina Faso, Haiti, Democratic Republic of Congo, Afghanistan and beyond.
The exhibition at Somerset House will be open daily from 10.00am to 18.00pm, 1 – 13 November. Admission is free. The exhibition and auction is supported by Barratt London, ING Media and Somerset House. For more information visit www.10x10london.com