Pierresvives, the 'Cité des Savoirs et des Sports pour tows' was inaugurated on September 13th, in the presence of André Vezinhet, President of Conseil Général of Herault, and Zaha Hadid. Situated in Montpellier, Pierresvives building embodies a distinctly contemporary vision of culture and accessibilty.
For the Département of Hérault, whose capital, Montpellier, has recently been named one of the New York Times?? 'Best Places to visit in 2012', the commissioner and the architect have planned to concentrate three civic institutions in a single location: the public archives, a multimedia library and Hérault Sport.
Following the call for submissions launched by Département of Hérault in 2002, Zaha Hadid understood at once the specific requirements of the endeavour, and her submission was quickly singled out. Her futuristic structure, a sprawling edifice of swirly white concrete layers and green-tinted glass, takes on the architectural challenge of accommodating an ever-increasing public whilst ensuring the conservation of valuable historical archives.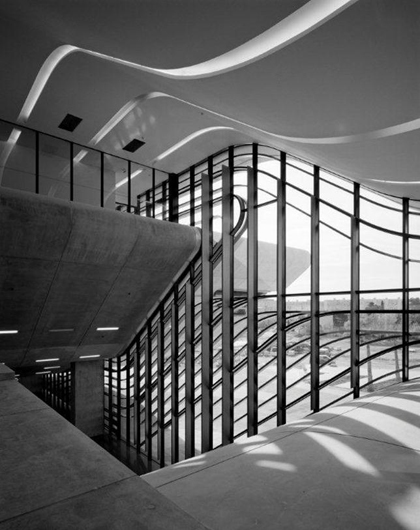 Montpellier is France??s eighth-largest and most dynamic city, more specifically in terms of new technologies and the pharmacy industry. Pierresvives has been conceived as an innovative cultural offer, to meet the needs of the area??s significant economic growth and increasing population of over 1,000 inhabitants per month. The total population of the Départment de l??Hérault has stood at 1 million since 2006.

Prominent attendees of the inauguration include Leïla Shahid, General Delegate of Palestine to the EU, Belgium and Luxembourg,to whom Zaha Hadid was first introduced in Montpellier, by André Vézinhet, president of the Conseil Général of Hérault.