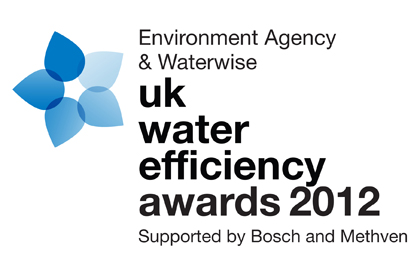 Leading domestic appliance manufacturer, Bosch, and global designer and manufacturer of premium showers and tapware, Methven UK, have joined forces to back the UK Water Efficiency Awards 2012. The UK Water Efficiency Awards is a biannual competition, run by Waterwise and the Environment Agency, to celebrate the achievements of public, private and third sector organisations in making the UK more water efficient.
Businesses in the UK currently use about 9.8 billion cubic litres of water a day ?? but estimates show that we could be using up to a third less ?? saving around £10million every day. And with more frequent droughts, climate change and population growth threatening to reduce the amount of water available in the UK, organisations that are saving water now are putting themselves a step ahead of their competitors, saving money, and preparing for the future.
Entries for the awards are open now until the end of June 2012, to any business or organisation that has taken steps to improve their own water efficiency, or has helped others to reduce their water use. Categories include Innovation, Landscape and Gardening, Community-led Initiative and Business and Industry.
Steve Lee, CEO of joint sponsors Methven UK says: "The bathroom is one of the biggest water wastage areas in the home and so, as a bathroom manufacturer, we recognise the importance of our industry and others, working to educate consumers about the water saving measures they can take. As an active member of the BMA, Methven supports all initiatives such as the Water Label ?? the new ratings system for bathroom products ?? that encourage water efficiency and believe that now, more than ever, the UK Water Efficiency Awards can play an important role in recognising those that are already making a difference."
Simon Jones, sales director of Bosch Home Appliances says: ?Bosch is not only one of the most trusted brands in the UK, we are great innovators. For over 125 years, Bosch have been developing products that feature groundbreaking technologies, which achieve maximum performance whilst being extraordinarily economical in the use of water and energy. Water is a precious resource and one that we must all use as sparingly as possible. Bosch are proud to sponsor this years UK Water Efficiency Awards and hope to contribute to the efforts of Waterwise, The Environment Agency and Methven in conserving the UK??s water usage.??
Entries for the UK Water Efficiency Awards are being sought from all over the UK. The awards ceremony will be held on Monday 17th September 2012 in The Cholmondeley Room at the House of Lords. Entry is easy and free but closes on 30th June, so get started.
For full details and information on how to enter visit www.waterwise.org.uk/pages/awards