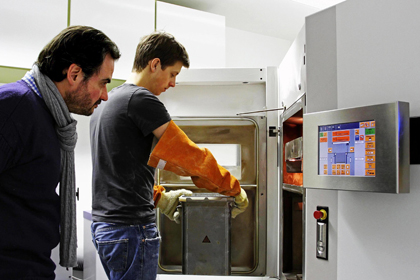 World-renowned dental implant specialist, Andrew Dawood, bought an EOS plastic laser-sintering machine in 2009 for his Wimpole Street company, Cavendish Imaging, so that data from CT (computerised tomography) scans could be used to make anatomical replicas of a patient's jaw and teeth. The purpose was to be able to plan and carry out complex dental procedures such as zygomatic implant placement more efficiently and accurately.
After the needs of his own dental practice and those of others locally had been met, the service was extended to assist other medical professionals. A recent, high profile job was the production of surgical planning models from MRI scans taken of shared blood vessels within the skulls of Sudanese baby twin girls, Ritag and Rital Gaboura, who were conjoined at the head. Last September (2011), doctors at Great Ormond Street Hospital separated the girls and they survived against incredible odds.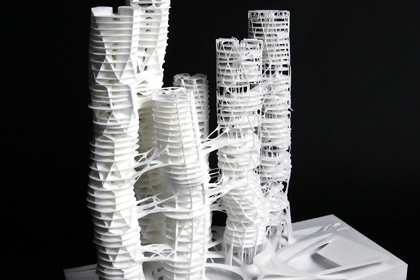 There was still spare capacity on the EOS FORMIGA P 100 laser-sintering machine, which automatically builds finely detailed models from successive 100-micron layers of fine, white nylon powder in a process sometimes referred to as 3D printing. So Mr Dawood decided to start another firm, Digits2Widgets, to offer a similar service to designers, initially mainly in the conceptual arts and architecture.
The enterprise has seen the machine produce a wide variety of prototypes and finished products. Work includes helping with customisation of dolls' faces, and 3D scanning, digital modification and small production runs of items such as innovative jewellery and spectacle frames, either directly in plastic or in metal via lost wax models.
Another project involved the limited production of plastic 'clones' ?? modified pine cones containing a light ?? that appeared in the list of best Christmas tree decorations 2011 published by The Guardian newspaper.
The area of London around Wimpole Street is at the epicentre of world renowned schools of architecture, such as the Architectural Association, Westminster University, The Royal College of Art and the UCL Bartlett School of Architecture. The latter also operates a FORMIGA P 100 as well as a larger plastic laser-sintering machine from EOS. Mr Dawood therefore took the logical decision to employ a qualified architect to help expand the design side of his business. That person is Jonathan Rowley, BArch, DipArch, ARB, who joined Digits2Widgets in August 2011 and has since been responsible for producing several scale models of buildings in multiple sections for architectural practices and students.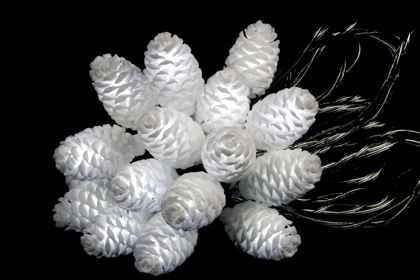 He comments: "The big advantage of laser-sintering as a 3D printing method is that the parts produced are robust and fully functional, unlike with some other additive manufacturing methods. Once the 3D model has been sliced horizontally and the data downloaded to the FORMIGA control, the build process continues automatically around the clock, layer by layer, until the process is complete. You then simply lift out the hopper, allow it to cool and extract the components, dusting off the powder residue.
"Different parts can be fitted together in our CAD (computer aided design) system and produced simultaneously within the machine's 200 mm x 250 mm x 330 mm build volume in one cycle, so productivity is high, allowing us to keep down costs. We still have spare capacity on the machine to offer to firms in the London area, nationwide or even internationally, and may well invest in another, larger EOS 3D printer as business increases."
For more information telephone 01926 623 107 or visit www.eos.info