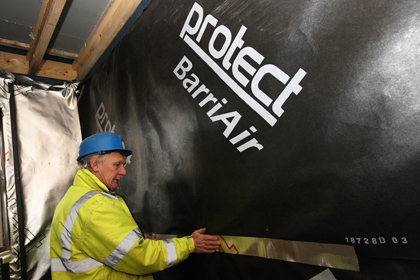 Tenants will have ultra energy-efficient homes through use of a new concept in building which is helping the Inverclyde-based social housing provider River Clyde Homes deliver ??best practice??.
For Phase 1 of the ongoing regeneration works at Larkfield, Greenock,the Association has commissioned Cruden Building & Renewals to build 126 fully accessible terraced and semi-detached dwellings designed to last for a minimum 60 years. The homes, when complete, should be so thermally efficient, "tenants?? fuel costs will be reduced dramatically??, says Stuart Johnstone, Development Manager at River Clyde Homes.
Key to the thermal efficiency is the utilisation of Glidevale??s BuildTight range- a combination of membranes and accessories, designed to optimize heat retention and reduce air leakage. James Smith, of project architects FBN Architects, explains: ?Detailed discussions with the team at Glidevale made us realize that using the BuildTight range was the solution to help us achieve a high airtightness of level 3. The solution was also suitable for a range of affordable eco homes that we were developing at the time based on a Fabric First approach.??
FBN Architects, designers of the scheme, predict an airtightness of 3m3/h/m2 will be attained, thus achieving low fabric infiltration rates as defined in Section 3 and 6 of Scottish Building Regulations (??best practice?? under Building Regulations Approved Document L in England). Initial pre-completion air tests have measured between 1.7m3/h/m2 and 1.86m3/h/m2.
?Our approach of ??concept to completion?? means a commitment to providing expertise and technical guidance, working closely with the architect and assisting site, to ensure a clear and in-depth understanding of the client??s requirements is maintained. The initial air tightness results are excellent, highlighting the importance of fabric first,?? commented Jenny Deacon, Glidevale Protect product manager.
Glidevale BuildTight offers a complete airtightness solution, and comprises Protect BarriAir airtightness membrane, Protect VC Foil Ultra highly reflective vapour control layer, Protect FCM750 floor cassette membrane for floor cassette edges, Protect PWAB party wall membrane and Protect sealing tapes. The range complements the comprehensive Protect range of high performance impermeable and vapour permeable roofing underlays and construction membranes, including the latest in reflective technology such as Protect Tf200 Thermo.
For more information telephone 01939 232 510.