An interactive exhibition, which invites visitors to star in their very own Doctor Who adventure via a tardis flight, has opened in a purpose-built venue designed by Holder Mathias Architects at Port Teigr, Cardiff Bay.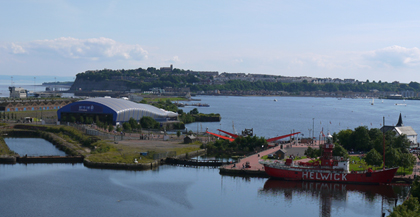 Following its successful run in Olympia in London, the Doctor Who Experience is located next to the BBC Wales Roath Lock studios, also completed by the practice, where the BBC Wales time-travelling series is shot.
Carolyn Merrifield, partner at Holder Mathias explains: ?The building was originally conceived as a standard tent and our remit was to inject some distinctiveness into it, while keeping within the budget. We did this by taking standard components and arranging them in such a way as to create a sinuous form that changes in section throughout its length. The effect has been dramatic, and the silver and blue structure has already become an icon in the bay.??
The Doctor Who Experience includes a new water taxi pier, featuring a Doctor Who trades. It is adjacent to the World of Boats and the new BBC Wales Roath Lock Studios, where Doctor Who is filmed, which was the first industrial building in the UK to achieve a BREEAM 'outstanding' rating, both by Holder Mathias.